Serenata de Oro
Featuring Las Tesoros del Westside: Rita Vidaurri, Beatriz Llamas, Blanca Rosa and Perla Tapatia, accompanied by Mariachi Las Erendiras

One of Rita Vidaurri's three sons once asked her where all the money was from the time that the San Antonio singer was known as the "Jax Beer Girl" in 1957. Laughing, Vidaurri tried to explain that she was paid to take a photo in a time before artists were paid licensing fees and residuals.
"Back then, they would pay you 20 dollars to record a song, and that was it," recalls Vidaurri from her West San Antonio home in Janaury 2010. "We were stars at the wrong time."
In her day, there were few Mexican-American stars bigger than Vidaurri. Gifted with a powerful voice from a musical family, Vidaurri had to hide her gift from her saloon-owning father. As a pre-teen, her mother would take her to a local amateur singing contest in San Antonio, where she won the five-dollar first prize 18 weeks in a row. News of this eventually made it to her father, who had to see it to believe it.
"My mother didn't know that my father was in the audience," she says. "But afterwards, when they placed the envelope over my head and said, 'the winner,' he liked hearing the audience applauding for me."
Vidaurri was only 14 when her mother died. At the time, she would perform in one of her father's saloons with her sister as "Las Hermanas Vidaurri." But Rita's younger sister didn't like the life of performing.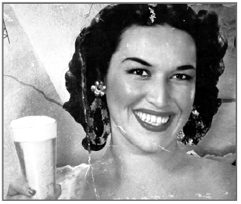 Rita Vidaurri as the Jax Beer Poster Girl, 1957.
Rita, as a soloist, would go on to become a regular on the powerful Spanish-language radio station XEW, based in Mexico City. She performed in Cuba, Panama, Colombia, and was a singing star throughout Latin America. She toured with some of the Spanish-speaking worlds biggest stars – like Cantinflas, Celia Cruz, Tin Tán, Pedro Vargas, El Pipporro, and many others.
Eager to get away from her strict and demanding father, Rita eloped with her boyfriend when he came to visit her in Mexico City. But he disappeared as soon as he heard she was pregnant (with twins). Her second marriage produced a son. But her second husband was abusive and she left him. While she vowed never to marry again, she finally agreed to marry her manager, again to get away from her stern father. A third son came of that marriage. And despite being her manager, he convinced her to stop performing and raise the kids.
"Mr. Eden, my manager, was 20 years older than me. He courted me, but I didn't want to get married. But I saw that he was good to my children," Rita recalls.
Six years after their marriage, Mr. Eden died of a heart attack, leaving 38 year-old Rita without means of support and four children from three husbands. And she started performing again.
Now in her Eighties, Rita recently underwent quadruple heart-bypass surgery. She has outlived all three of her sons. (A daughter survives.) But Rita is still performing and talking about recording.
And people are recognizing Rita Vidaurri as one of the city's forgotten treasures. The Esperanza Peace and Justice Center is helping local documentary filmmakers to record her story.