Best wishes from all the editors and writers at Axis of Logic
And don't forget to keep your New Year's resolutions ...



Simón Bolívar In Black & White
Audrey, thinking 'ain't I cute?'
Pampers, the world's nicest cat
Butterscotch - arguably the world's dumbest cat
and finally ...
Stinkerbelle
No disrespect to all these lovely comrades. I'd love to meet some of them ... especially Figaro ... purrr. But hey! I, may I please have the last word here?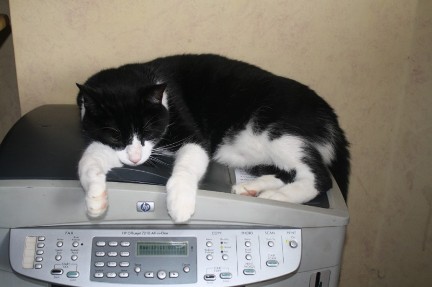 This is me

Simón Bolívar. One of my fav places to keep an eye on Les from the Axis of Logic printer when he's on the damn computer - a-g-a-i-n. He gives me precious little of the attention that I richly deserve!
Guapo, eh?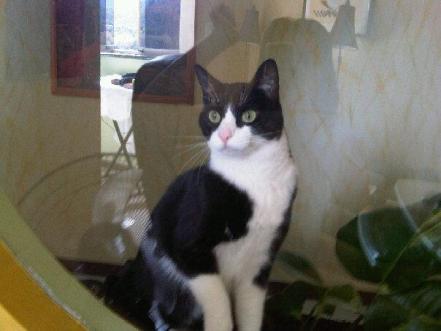 This is me on Pigeon Patrol. I've got a ledge outside the window where they like to land when doing their sorties. I enjoy sneaking up on them, batting them around a bit just to teach them a lesson. I've even dragged a few of them inside to play but Les always robs me and sends them off flying. You can bet they go off and tell their friends. Actually, I believe in non-violence ... most of the time.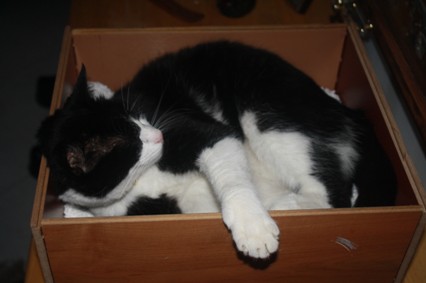 Gotta tell ya - Les ain't all bad. This is me sleeping in my new crib. You see I found this cute little cardboard box - just my size for some cozy sleep. The old man noticed and went off and built me a groovy place to call my own - right next to his bed. The sob won't let me sleep on his. (Despite all his socialism b.s. I think it's a class thing) - but gotta admit - it fits me perfectly and have to give him a little credit - that is, as long as he keeps feeding me.
Hey! Now let me tell you a little about my story. Ya see, I was "el gato de la calle" - a cat of the street - and believe you me - I was born street and I still have it in me. One night at about 11 p.m. Les and his friend Arturo were walking up from his pad to the panaderia. I just left my mom and the fam and spotted him (looking for my independence) and thought, "Hmmm, he just walked out of that that bourgeous urbanization and I bet he's got a pretty cool place."
So I walk over, sniffed around his ankle and gave him the finest meows I could muster. It was a slam-dunk. Of course he picked me up and put me in his pocket. I was just a little thing in those days and just too f*#king cute for him to resist. I knew it and he knew it. Took me to his place and the rest is history. He gives me precious little attention but he feeds me well and yeah, I like it here. Only problem I have is that all those other cool Chavista cats out there now think I'm a bourgeois pitiyanqui. But I still dearly love the color red. I get plenty of that here. I guess I just have to live with the guilt. Saludos a todos los lectores del Axis of Logic y a todos los gatos revolucionarios del mundo. (Oh yeah - forgot to mention, Les gives me ESL every day so I'm bilingual too.)
| | |
| --- | --- |
| | Ciao from the Big Meow. |