Editorial comment: Today's financial chaos was created by the three Big Corporation-friendly organizations: WTO, IMF and the World Bank. They thought up the disastrous austerity programs and forced them upon countries with debt problems. Speculators were getting monstrously richer by playing the game 'What currency is going to fall drastically next?'. Now I can only cheer when I read about WTO being close to a collapse. Those three fiends are responsible for much of the present distress in numerous countries all over the world. The speculators always win out and of course the Big Corporations always profit from the tricky financial measures that increase the unlivable conditions of the poor wherever they are, in the U.S., in Europe, in Africa, in India or in a Latin American country struggling to create some equality. -- SON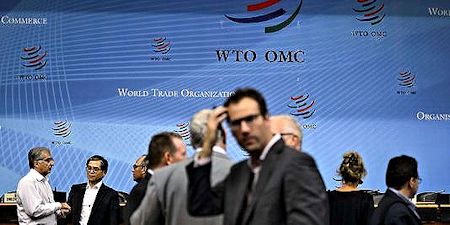 The new Indian government has blocked the adoption of the text agreed on in December, whcih represented a first step towards a global abolition of customs barriers (AFP/FABRICE COFFRINI)


This is a "no" that topples all. Due to the blocking by the new Indian government (Prime Minister Narendra Modi), the 160 members of the World Trade Organization (WTO),
on Thursday, July 31,

failed to adopt the text agreed on in Bali during their last Ministerial Conference in December 2013.

The "historic" agreement reached Dec. 7, 2013 after many negotiations, focused on the liberalization of trade. It was above all the first agreement signed since the birth of the organization in 1995, thus saving it from obsolescence, but at the cost of reducing its ambitions. The Bali agreement does not in fact meet the hopes and ambitions of the WTO global abolition of customs barriers, expressed throughout the twelve years of unsuccessful negotiations in Doha.

The ambassadors had until midnight July 31 to agree on the final text. The Director of WTO, Roberto Azevêdo of Brazil, the whole day Thursday
was

conferring with the coordinators of the regional groups within the WTO in an effort to resolve the situation, but with no success.

"We have not been able to find a solution that would allow us to reconcile points of view. We tried everything we could do. But this has not been possible."



Moreover, Mr. Azevêdo urged WTO members to "think long and hard about the implications of this setback." Mr. Azevêdo did not hide his concern for what would follow in the process of WTO negotiations.

Read a portrait of the WTO Director: Roberto Azevêdo, the Brazilian diplomat who will be "rowing" (who has hard work ahead of him -- SON)

This view was shared by the U.S. Ambassador to the WTO, Michael Punk:

"We are obviously sad and disappointed to see that only a handful of countries were not willing to fulfill their commitments made at the Bali conference in December. We agree with the Director General that this action has placed the institution on a very insecure ground. "



For further enlightenment
r
ead

: "The Bali agreement is limited in scope and mainly saved the credibility of the WTO"

ONE COUNTRY ALONE MAY BLOCK EVERYTHING



Read our analysis: The fate of the World Trade Organization is decided in Bali



The agreement reached in December represents less than 10% of the comprehensive reform program launched in Doha and covers three areas: agriculture, with a commitment to reduce export subsidies, development aid consisting of greater tariffs exemption for products from the less developed countries, and "trade facilitation", which aims at reducing bureaucracy at borders.

It was also stated that the agreement had to be adopted by all Member States by 31 July at midnight. But last week the new Indian government went back on this agreement, requesting that a permanent solution to food stocks be negotiated by December 31, 2014, whereas in Bali, India had agreed to a moratorium until 2017. WTO decisions must be adopted by consensus, and one country can block everything.



HOPE FROM A VISIT
BY JOHN KERRY

TO INDIA

The United States, the European Union, other Western countries, including Switzerland, and many developing countries regretted the hardening of
India's

position.

There was hope for a deblocking of the situation due to the visit to India on Thursday, by U.S. Secretary of State John Kerry, at the head of a large delegation to chair the fifth annual strategic dialogue between the United States and India. But the government in New Delhi had indicated that it did not intend to reconsider its position.

Global trade is in the North, customs barriers are in the South. (The French often refer to the developed world as the North and the less developed world as the South - le conflit nord-sud.)


Source: Le Monde --
Translation by Siv O'Neall