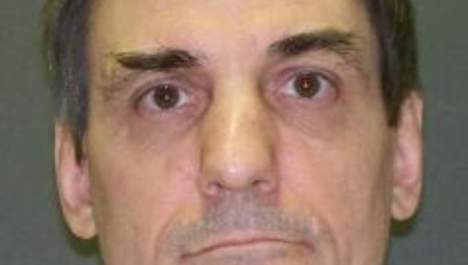 Inmate Scott Panetti is seen in an undated picture release by the Texas Department of Criminal Justice in Huntsville, Texas. (Photo: Reuters/Texas Department of Criminal Justice)


(Dec. 3, 2014) - Tonight, barring an intervention of common decency, common sense and common compassion, the state of Texas will execute a man who scarcely comprehends who he is, let alone the reason why he will be put to death.

The man is Scott Panetti, a hopelessly unhinged paranoid schizophrenic. No one disputes that in 1992, Panetti gunned down the mother and father of his estranged wife in cold blood. No one disputes that this was a horrendous wastage of innocent human life.

Nor does anyone dispute that at the time, Panetti was enmeshed in deep psychosis. His madness was no secret. He had been hospitalized 14 times before the killings.

The hospital system failed him. It could not or did not protect him from his demons, though regimens of medication and psychiatric supervision have repeatedly been shown to stabilize patients in his condition. Maybe his caregivers were overworked in an underfunded system.

Then the Texas courts failed him. At his murder trial, the judge permitted this manifestly brain-ravaged man to act as his own lawyer. What a hoot that must have been. Reporters in the courtroom described Panetti as duded up in cowboy clothes, prancing around and ranting about Satan, an obsession typical for the psychotically insane.

Perhaps the court anticipated this; calculated that his inevitably demented performance would solidify public opinion against him and thus hasten his convenient disposal via lethal injection. Hey, he was probably faking his craziness anyway, said prosecutors.

The Texas court system, the American court system and many Americans in general are failing the Scott Panettis among us, and they need to educate themselves.

Psychosis is not a condition of choice, like a cocaine high. Nor does it proceed from character flaws. Psychosis arrives in a person's psyche at conception via genetic transmission -- heredity -- and it devours character. It eats away at the circuitry of the prefrontal cortex, the command center of the brain, the regulator of thought, the behavioral choices that proceed from thought, the capacity to separate fantasy from reality.

Schizophrenia, the genetic flaw that produces psychosis, afflicts about one in 100 Americans, an enormous figure.

Schizophrenia does not always lead to violence. In Panetti's case it did, and on Wednesday, barring a commutation by the Supreme Court or Texas Gov. Rick Perry, he will pay the ultimate price for suffering the ultimate bad luck.

Perhaps our national self-education should begin with some critical soul-searching.

Who would benefit from Panetti's extermination?

Would it protect society? Panetti is already sequestered from society, and should be forever. Would his execution serve as a deterrent? To believe this, you must believe that everyone will wake up on Thursday morning musing, "Gee, look what happened to Scott. I guess I won't turn psychotic after all!"

Would it be a stern reaffirmation of -- of what? Of our righteous national ideal that nobody had better go violently nuts if they know what's good for them?

Would it give comfort? It certainly would not give comfort to Sonja Alvarado, his former wife and the daughter of his victims, who filed a petition stating that because of his paranoid delusions at the time of the murders, he should never have been tried.

Nor would it give comfort to Victoria Panetti, his sister. She has waged a heartfelt national petition campaign to plead for her brother's life. To achieve this, the voices of her petition's signers must break through the moral anesthesia of the powerful pols and judges who have thus far shrugged at the manifest injustice of her brother's case.

Clearly, her prospects are not good. The Supreme Court upheld a 2004 federal judge's stay of execution of Panetti on the ground that a lower court's standard for determining a defendant's mental competency was unconstitutional. That was then.

The Texas court lawyers bulled ahead, getting the case sent back down to that same lower court-- the Fifth Circuit -- to correct "errors" in the prosecution. In 2013, a psychiatrist testified that he thought Panetti was "competent" enough to understand why he was being put down, despite mountainous evidence to the contrary that beggars belief.

So: Let us regretfully, and with apologies to the ravaged sensibilities of Victoria and the other Panetti family members, search for shards of redemption should the worst come to pass Wednesday night. After all, the rationale for executions, if there is a rationale, must be that they will make things ... um ... better.

Will redemption come via a new surge of political backbone to stare down the NRA and strengthen laws to at least keep the mentally ill from possessing firearms? Don't hold your breath.

Will it come via kicking our society out of its denial about the disgraceful chaos of American mental-health care, and make us insist that its reform be a national priority? This has been a crying necessity for generations. So it can probably wait a few generations more.

Will it come via motivating people to enlarge their understanding by getting to know families with members afflicted with the disease? The nearest is not far away, I guarantee you. You will learn about torturous, nearly unbearable grief, and you will keenly perceive the need for compassionate activism. So, probably not.

Speaking honestly, I can envision only one certain consequence of Scott Panetti's execution:

A spiritually declining nation will have shoved the lethal needle a little deeper into its own vein.



UPDATE from teleSUR:
(Late on Dec. 3, 2014) -

A Federal Grand Jury ordered a stay of execution for U.S. prisoner Scott Panetti Wednesday after his lawyers and human rights organizations petitioned that the execution not be carried out on humanitarian grounds due to his history of mental illness.





The Federal Court of Appeals in the Fifth Circuit of New Orleans ruled that the execution will be "pending." In recent weeks, various nongovernmental organizations and anti-death penalty groups have petitioned the state of Texas to stay the execution. Editorials appeared in major news media outlets also appealing for the man, who suffers from schizophrenia, to not be killed.





Panetti was scheduled to receive a lethal injection at 6:00 p.m. Wednesday at the Walls Penitentiary in Hunstville, Texas. He was sentenced to death for killing his wife's parents in 1992 while having a delusional fit.





"It appears to us that cooler legal minds have prevailed and are preventing Texas from completing its rush to execute a severely mentally ill man," Kathryn Kase, Panetti's lead lawyer and executive director of the Texas Defender Service, which represents clients facing the death penalty, told The New York Times.





During his trial, Pannetti was authorized to represent himself in court, where he admitted to committing the crime. He also tried to subpoena about 200 witnesses, including Jesus Christ and John F. Kennedy.





His lawyers told the Times that Panetti constantly suffered from similar delusions and believed that the "devil was after him."





The U.S. Supreme Court banned executions of people with mental illnesses in 2002, deeming the death penalty in such cases to be cruel and unusual punishment, which is prohibited under the Eighth Amendment of the U.S. Constitution. However, in Panetti's case, the state maintained that despite his medical history, he was still cognitively aware of what was happening when he committed the crime, which excludes him from this constitutional protection.





But Kase told Democracy Now! that the reason why a person with a questionable relationship to reality was allowed to represent himself in court in the first place was a mystery.





His defendants maintain that Panetti was diagnosed with schizophrenia in 1978 and has had to be hospitalized 15 times since then.





Until the late 1970's, people like Panetti were kept in mental institutions, often under degrading conditions. According to the Christian Science Monitor, the number of patients committed in the United States reached its peak at 560,000 by 1955, which marked an era known for locking people up and forcing them into straight jackets and shock treatments. In the 1960s and 1970s, a series of laws were enacted to improve mental health services. In 1980, President Jimmy Carter passed the Mental Health Systems Act to restructure community mental health center programs. However, a year later President Ronald Reagan in an effort to make cuts to the social welfare system signed the Omnibus Budget Reconciliation Act, which overturned Carter's legislation and ended federal government funding for mental health programs. As services decreased, record numbers of people were deinstitutionalized in the early 1980's. Between 50 and 60 percent of those released were diagnosed with schizophrenia.





Many ended up on the streets. A 1985 report from Los Angeles cited in Salon estimated that 30 to 50 percent of homeless people were seriously mentally ill and were being seen in "ever increasing numbers."





And as mentally ill people were turned out on the streets, instead of treating people afflicted with mental disorders to prevent them from harming themselves or others, mentally ill were gradually shifted into the prison system.





In 1989, studies cited in Salon concluded that, "The prevalence rates for major psychiatric disorders … [in jails and prisons] have increased slowly and gradually in the last 20 years and will probably continue to increase."





Police departments across the U.S. began implementing the Crisis Intervention Team system in 1988, which has become an integral mechanism in U.S. law enforcement since, as a response to deal with the mental health emergency following deinstitutionalization.



Source (CNN)
Source (teleSUR)