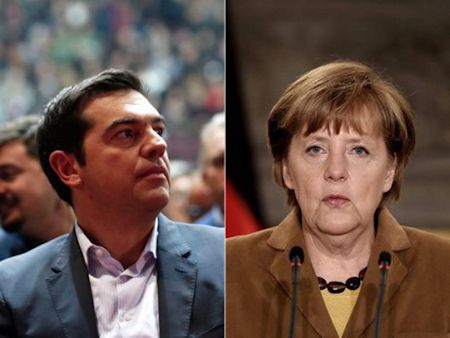 Mr Tsipras says Frau Merkel's Germany is behaving like a 'Fourth Reich', trying to use its debts to rule Greece. But will he be able to defeat Germany's powers of financial coercion?
"In 1943, Germany forced the Bank of Greece to lend it two loans worth 11 billion euros in today's money. And Germany has still not paid back the debt," writes Tom Pride.
"Which – considering the Germans have been bleating on and on and bloody on about how the Greeks should honour their present debts – is a case of breathtaking hypocrisy writ large, I'd say."
He's got a very good point – look at this report (from the Torygraph) of German sabre-rattling against the new Greek government, which is determined to reverse austerity measures imposed on the country and to renegotiate (read 'cancel') its debts:
"Wolfgang Schäuble, Germany's finance minister, said Greece is legally bound by its agreements. 'There are rules, there are agreements. New elections change nothing,' he said."
So the will of a country's people counts for
"nothing"
then?
It seems the German government has just put its foot in its massive ministerial mouth.
Source: Foreign Affairs