Arrests Confiscations and Civic-Military Commands


The owners of the Farmatodo chain of 167 shops in Venezuela were remanded in custody to await trial at the request of the Attorney General's Office. The Executive President and Vice-President of Operations, Pedro Luis Angarita Azpurua and Agustin Antonio Álvarez Costa are accused of boycott and destabilizing the economy – both crimes are included in the Law on Fair Prices.
Breaking News – President Maduro stated on the afternoon of February 6 that Farmatodo must regularize its operation immediately or he will be obliged to "take other decisions" – which could mean confiscation of the company. The heat is on for the capitalist speculators and this will serve as a message to other companies participating in the economic war.
Before these two Farmatodo criminals were arrested, the rumor on the street was that the Farmatodo chain really belonged to the President of the National Assembly, Diosdado Cabello, who is the second most powerful politician in the country after President Maduro. In fact, for many years rumors have been rife about Cabello owning a huge business empire with millions of dollars stashed offshore or in the US.

No evidence has ever been presented to substantiate these wild claims and several court cases brought against Cabello in the past failed to succeed due to lack of evidence. However, the owners of Farmatodo let these rumors run until they had their day in front of the judge when the truth about the ownership of the 167 shops was revealed.

In an almost poetic twist to scotch such rumors about his "business empire", Cabello authorized the workers at businesses that were rumored to be his to take control of them if the bourgeoisie did not admit who were the real owners.



Not just food and medicines……


This week two hidden consignments of tires were discovered by the National Guard – one in Zulia state and one in the middle class semi-commercial area of Los Chaguaramos near the Central University in Caracas.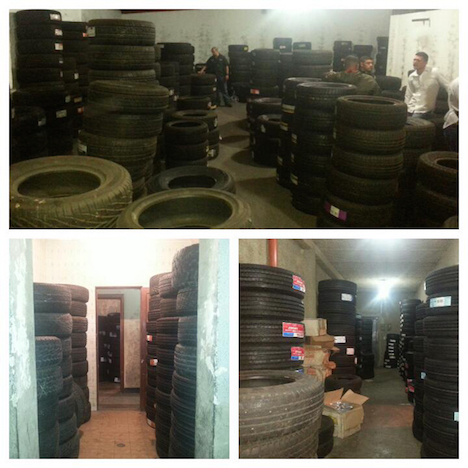 Some of the 3,000 hoarded tires in Cauchos Apolo


It has been difficult to buy tires in Venezuela for well over a year and prices are sky high as available supplies were kept off the market. In Zulia state, in Villa de Rosario, three people were detained for hoarding 3371 tires, 34,147 liters of motor oil, 5108 liters of brake fluid, 608 oil filters and 2.5 tons of grease for automotive applications as well as other car spare parts that have been difficult to find.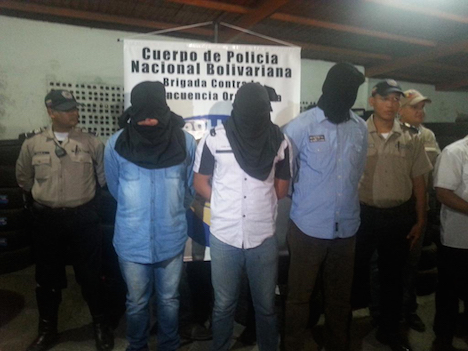 Three detainees, picked up for hoarding of tires


The owner and administrator were arrested and are Iria Romero García (41),; Dibaye Rodríguez Morán (40), and Marcos Arroyo Zambrano (48). All are accused of hoarding and criminal association to commit crimes which all carry hefty jail sentences as well as confiscation of assets. The merchandize is set to be sold at solidarity prices to the public.

In the case of the find in Los Chaguaramos, 3,000 tires were found hoarded at Cauchos Apolo 15. The company was fined 25,000 tax units Bs. 3,175,000 or over US$300,000 and three people were detained to face the judge.

The raid was carried out in a joint operation by the Minister of Justice and Peace, Carmen Melendez, and the Superintendent of Fair Prices, Andrés Eloy Méndez.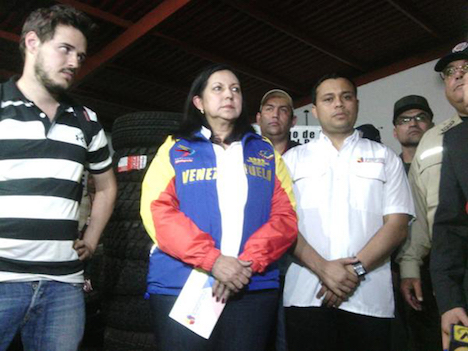 Minister of Justice Carmen Melendez with her aides




Local intel…


Ordinary citizens working with the authorities provided the information to track and capture 33 tons of food that had been illegally obtained from the supermarket and factory distribution channels.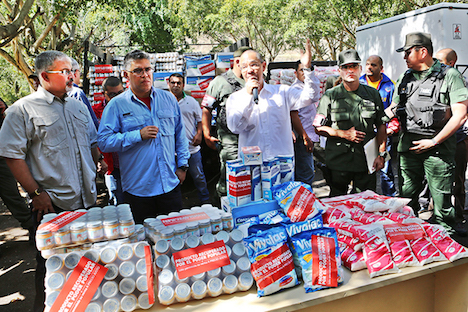 Part of the 33 tons of food found in Miranda state
This haul yielded 20 tons of refined sugar in sacks as well as baby foods, milk powder, cheese and chicken. The operation was headed up by Governor of Caracas, Ernesto Villegas and Elias Jaua, now Vice President for the Development of Territorial Socialism.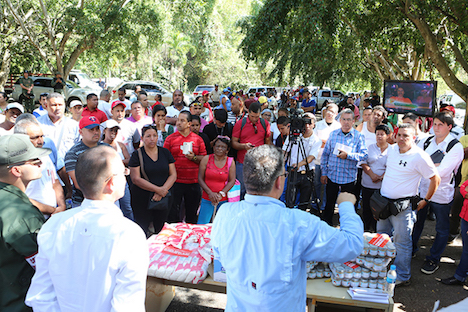 Extemporaneous explanation given to the public


Jaua informed the public present that the products would be sold at solidarity process in Mercal and PDVAL, both government grocery chains, No arrests were made but the trucks and taxis involved in this crime will be confiscated and out to good use in other communities.

Coffee at 5 times the legal price...
The Superintendent of Fair Prices, Andres Eloy Méndez, led an inspection of San Domingo coffee company in south west Caracas and discovered that regulated coffee was being bagged and sold as gourmet coffee at five times the legal price – that is, Bs.125 for 500 grams instead of Bs. 23.

Coffee is regarded as an essential item for the Venezuelan culture and so central government subsidizes coffee growers in the main producing states of Lara and Portuguesa to keep the price low. By overcharging Café San Domingo is robbing the public and the government to line its own pockets. Méndez called this sort of speculation "economic war" and fined the company 25,000 tax units or about US$300,000. Méndez made an appeal to all entrepreneurs to obey the law so as not to run afoul of it due to overriding greed and ambition.

The 180 tons of coffee was confiscated and will be sold at regulated prices in the government grocery chain via the state-run Coffee Corporation. The fact is that coffee has been almost impossible to find in recent months and is being hidden by distributors could mean that further measures will be taken to control the whole of the coffee industry in Venezuela.



US$755 for 36 condoms???


As if it were a continuation of last year's toilet tissue shortage,

Bloomberg News

ran a story stating that a pack of 36 condoms costs US$755 in Venezuela due to shortages.

International readers of the corporate media can believe this garbage if they like but this was an offer on-line at Bs. 4760 – a sum that many people can easily afford in Venezuela. So is the conclusion that Venezuelans are so rich they can pay US$755 for 36 condoms when media trash like

Bloomberg

is regularly publishing stories about "poverty in Venezuela"? My God...we must be rich as no one in the US would pay that price just to satisfy their girlfriend!!

Having read this story this morning, I browsed certain outlets where condoms are sold and all seemed in order as the shelves were not empty and condoms were available for Friday night.

On the other hand I understand that the condoms in question cost US$21 in the US. This is Bs. 132.30 at the official exchange rate. But if I wanted to pay US$755 at the black market rate (soon to be legalized) the cost would be US$4.08.

So maybe the

Bloomberg

and BBC stories about this emotional subject should headline either that Venezuelans are very rich or that the US customer is being ripped off.

Axis readers can conclude, this story is just sensationalist propaganda by capitalist media suffering as their beloved system is cracking open at the seams under crushing debts.



Organizing the "troops"……


To wind up this report, we are happy to announce that as of Thursday February 5, ministers and state governors have started swearing in Civic-Military Inspection Commands in all 24 states to hunt down the hoarders, speculators and smugglers of products in the ongoing economic war in the country.

Each Command will work in unison with Communal Councils, the Superintendent of Fair Prices, the National Guard, the Bolivarian Militia, the Francisco de Miranda Front to track down the traitors trying to overthrow the government by making life difficult for the mass of the population – including the opposition-oriented middle classes.

These Commands, in conjunction with the 20,000 Presidential Commissioners who are like an advanced guard, will now commence a direct defense of the Venezuelan people using local intelligence and reports in a broad counter offensive at national level.

We will report on the progress of this mass civic-military initiative in the coming days..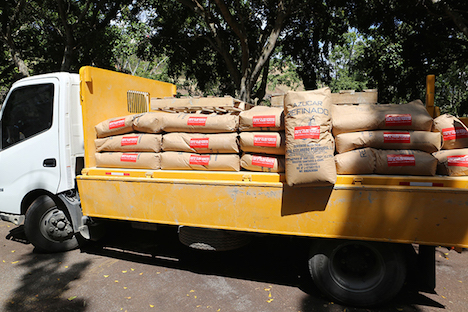 Truck loaded with sugar for smuggling to Colombia
© Copyright 2015 by AxisofLogic.com

This material is available for republication as long as reprints include verbatim copy of the article in its entirety, respecting its integrity. Reprints must cite the author and Axis of Logic as the original source including a "live link" to the article. Thank you!