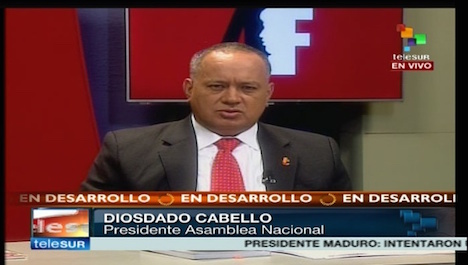 Diosdado Cabello provided details Thursday night about the coup attempt. | Photo: teleSUR


The teleSUR Caracas headquarters was one of the strategic areas the alleged coup plotters planned to attack.

Venezuelan National Assembly head Diosdado Cabello revealed the details Thursday night of what the government says was a "thwarted coup." His public announcement followed one earlier by President Nicolas Maduro.

Cabello and Maduro said the plan was financed from the U.S. and was to be carried out early Thursday during the anniversary of the start of the violent opposition blockades last year and marches today by the country's youth. People were allegedly going to be killed during the marches, while strategic targets would have been bombed in an attempt to overthrow the Maduro government.

Cabello said it was important to inform the people of the plans and names of people involved in the attempt, which he said included a small group of civilians and airforce officials. He said that thanks to the actions of state security and intelligence officials, various people and their equipment were detained and confiscated, including a computer with the "tactical objectives of the coup group."

Cabello showed a map, which he explained came from that computer, that had various buildings marked as "tactical objectives," including the Miraflores Palace, the justice ministry, the teleSUR building, the National Electoral Council (CNE), and the military intelligence headquarters.


The buildings they planned to attack:

teleSUR headquarters (east Caracas)

Headquarters of the Military Intelligence (DIM)

Plaza Venezuela

Metro station Zona Rental (center of Caracas)

Ministry of Defense (center of Caracas)

Caracas municipality building (west)

Miraflores palace (national government and presidential headquarters)

Public Prosecutor's office (center of Caracas)
Caracas Mayor Jorge Rodriguez also participated in the public announcement, and he stated that it was opposition legislator Julio Borges who chose the buildings.

"Legislator Julio Borges will have to explain if he was planning this map of attack targets … among them was the (western area of Caracas) La Cadelaria where the opposition always wins elections," Rodriguez said.

"What were they going to say to the people who came out of their houses because they were going to be bombed … or when they were going to bomb the international channel, teleSUR."



Cabello said that authorities had confiscated grenades, military and Sebin (intelligence) uniforms, an eight-minute video with a declaration by the plotters, and a collection of AR-15 rifles. Widely available in the United States, the AR-15 was first developed for the U.S. military, but is today one of the most popular rifles commercially available in the United States. It is not legally available to the public in Venezuela.

The AR-15 has been used in a number of mass shootings in the United States, including the 2012 Aurora shooting, which left 12 people dead in Colorado.

Rodriguez explained, "Venezuela has a very violent sector of the opposition that doesn't hesitate to plan actions that could mean dozens of deaths or the assassination of the president."

The coup attempt was going to start with a public announcement that Borges and opposition political leader Antonio Ledezma were going to sign, and it was going to be published by a national media, Cabello claimed.

He added that a Tucano plane (the EMB 314 Super Tucano) was going to conduct the airstrikes.



The Embraer EMB 314 Super Tucano with it's weapons and payload. The fascists, domestic and foreign, planned to use this plane to attack 11 different points including Miraflores Palace, the Defense Department, TeleSur in Caracas and other targets on February 12.





​Various airforce officers have been detained, for their alleged involvement in the plot.

Cabello argued that the opposition was organizing legal activities, such as collecting signatures, while at the same time "secretly planning a coup."

He also showed a photo (below) and alleged that a U.S. official recently visited Venezuela to observe the trial of Leopoldo Lopez, who is accused of having incited last year's opposition violence, which led to 43 deaths.

"What right does a U.S. official have to attend (the trial)?" asked Rodriguez.



Source URL