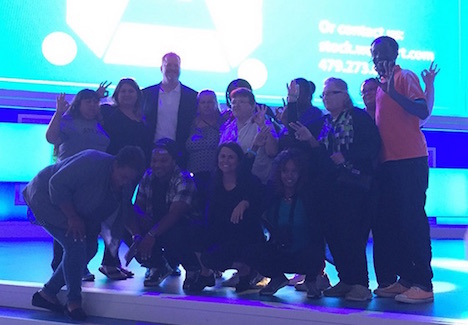 (Photo: Sarah Jaffe)


Early Friday morning June 5 in the Bud Walton Arena at the University of Arkansas in Fayetteville, Venanzi Luna told her story to the Walmart shareholders meeting. Her image was projected in front of her on massive screens that had just been magnifying the live performance of R&B star Brian McKnight.

After her, Ricky Martin, Mariah Carey and Rod Stewart would grace the stage. On either side of the stage, American flags hung; from the ceiling, flags bearing the bright-red Razorback hog logo of the university touted its championships. Reese Witherspoon, star of such films as Legally Blonde and Sweet Home Alabama, hosted the event, playing up her southern accent for the crowd.

"I'm here to urge you to support proposal number nine, because our board of directors needs an independent chair committed to the highest standards of integrity," Luna said. "Under our current, NON-independent chair, our company has suffered a series of governance failures – alleged bribery and a cover-up, repeated violations of environmental regulations and breaches of labor law, both at home and abroad. I know about this firsthand."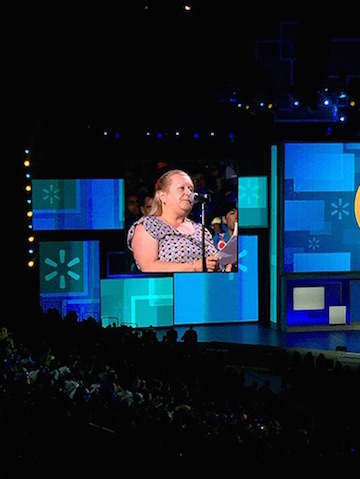 Cynthia Murray. (Photo: Sarah Jaffe)


Luna is a shareholder in the company through its much-vaunted employee stock ownership plan and a member of OUR Walmart, the organization of Walmart workers, backed by the United Food and Commercial Workers Union, that has been leading strikes and protests at Walmart stores across the US since 2012. As part of a delegation from OUR Walmart and other activist shareholders, she traveled to the shareholders' meeting to make her protest known to the chief executives, the Walton heirs, and the thousands of associates brought in by the company to attend its massive shareholder extravaganza.

"If Walmart executives are not actually punishing us, then they should promise – right here and right now – to reinstate us when our stores reopen."

She worked at Walmart for eight years – up until April 13 of this year, when she and her coworkers in Pico Rivera, California, were told that their store would be closing because of "plumbing problems." Those same plumbing problems would be reported at four other Walmarts, two in Texas, one in Florida, and one in Tulsa, Oklahoma, which all closed at the same time.

"On April 13, my fellow associates and I were given just five hours' notice that our store would close that very afternoon," she said. "Managers told us that we had to apply for transfers and reapply for our jobs when the store reopens, and they would not guarantee that we will get our jobs back, the same hours, or the same pay."

That Pico Rivera store was the location of the first Walmart strike in the fall of 2012, and Luna was one of the first strikers. She also took part in a recent sit-down strike at Pico Rivera. That's why she thinks it was closed.

"If Walmart executives are not actually punishing us, then they should promise – right here and right now – to reinstate us when our stores reopen," she said. "That's the right thing to do."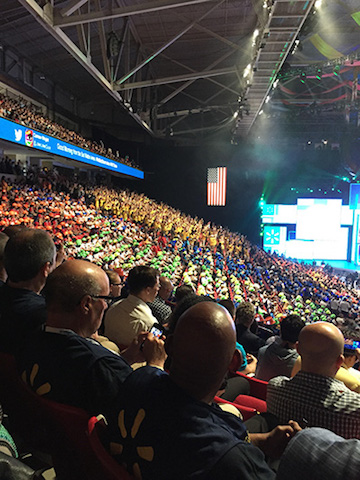 (Photo: Sarah Jaffe)


Luna was not the only OUR Walmart member to address the meeting. Cynthia Murray, of Laurel, Maryland, spoke in favor of a resolution to allow proxy access for shareholders, calling for "servant leadership" – a favorite term of Sam Walton's and one echoed onstage by new CEO Doug McMillon – and increased accountability from the board. She also called on the board to support a $15 an hour wage and full-time hours for all associates who want it, a call echoed by Mary Watkines, from Federal Way, Washington, who called for better incentives for Walmart executive compensation.

"Our CEO still makes 1,000 times the average associate. That's a double standard that has to end," Watkines said. "Our company keeps missing the targets and goals set by the board of directors each year. Nevertheless, Mr. Doug still got a performance bonus of $17.5 million! When we miss our performance targets in my store, our bonuses, as small as they may be, disappear altogether. That's a double standard that has to end, too."

Michael Brune, executive director of the Sierra Club, presented a resolution introduced by OUR Walmart member Mary Pat Tifft, calling for Walmart to cut back on the greenhouse gas emissions produced by its shipping from China by producing at home. He too echoed the call for $15 an hour and full time for the workers.

[

$9]: It's a surviving wage, not a living wage,"



The shareholder resolutions, according to an unofficial tally presented later in the meeting, were all voted down – not a big surprise, when the Walton family alone holds about fifty percent of the company stock, thanks to stock buybacks. (A report last year from nonpartisan think tank Demos found that if the company had spent the money it did on share buybacks on workers' wages instead, it could have given each of its 825,000, low-wage employees a raise of $5.13 an hour.) No number of shareholders like Martha Sellers, a 12-year Walmart employee, can overturn the Walton vote. Sellers showed me her stock certificate, what she's garnered over those years, putting the maximum amount allowed from each paycheck into Walmart stock: $32,000. "That's my retirement," she said. "Do you think I'm going to be able to retire?" She's 57.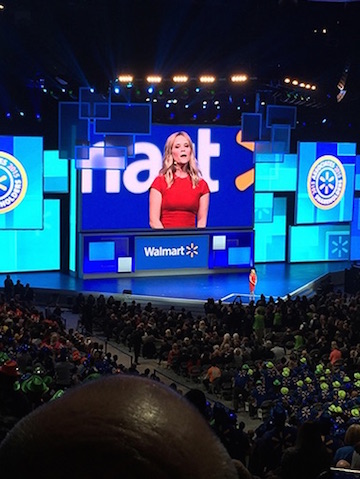 Reese Witherspoon. (Photo: Sarah Jaffe)


No independent board chair will be forthcoming, certainly. Current chairman, H. Rob Walton, who came onstage in his father's Walmart trucker cap before reverently placing it on a pedestal, is stepping down this year and touted the credentials of new chair. Greg Penner who spent time at Goldman Sachs, is a member of the board of Hyatt Hotels and Teach for America. Oh, and, Walton said, "He was smart enough to marry my daughter."

The shareholder meeting, though, isn't really about voting on proposals. It's about selling the Walmart way to its associates and to the press who are allowed in. (Full disclosure: I was not given a press pass and attended the meeting as a shareholder proxy.) What historian Bethany Moreton, author of To Serve God and Wal-Mart, called the company's corporate populism was on full display, from paeans to the good work of associates, to plentiful clips of Sam Walton's voice, to the CEO of the US division of Walmart, putting on an associate vest and proclaiming his pride in his onetime job as a stocker.

It was that US chief executive, Greg Foran, who touted the company's new plans to improve life for its workers. "As a symbol of our commitment to you, we gave you a new name badge," he said. The company is returning the slogan. "Our people make the difference," to associates' nametags. It is also raising temperatures in stores - all controlled from the Bentonville office – an average of one degree per store, allowing workers to wear black jeans, and bringing back Walmart Radio, an in-store broadcasting service that Martha Sellers said used to allow workers to call in and make requests. "It's all cosmetic," Sellers said.

Less cosmetic was the company's announcement last year that it would raise its minimum wage to $9 an hour, a move that the OUR Walmart workers take credit for, though they still want more. "It's a surviving wage, not a living wage," said Ray Scott, a department manager from the Chicago area.

"We put ourselves in the place of the 2,200 laid-off workers. … They could be starving, they could be sleeping in tents."



The celebrity-studded event aims to dazzle – bright lights, associates dressed in color-coded outfits and given assigned seating section by section: yellow for Sam's Club, red for e-commerce, green for logistics and distribution center workers, who by my count got fewer shout-outs from the stage than anyone else though their jobs are certainly central to the company's success. One can't help but dance along to Mariah Carey's hits – "Vision of Love" her first single – or Bryan McKnight songs that I danced to in high school.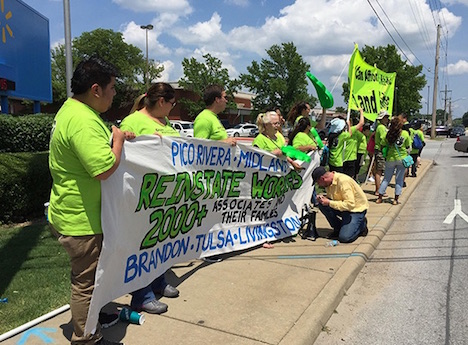 (Photo: Sarah Jaffe)


Carol Burnett joined Reese Witherspoon on stage for a pop-feminist segment that began with Witherspoon calling Walmart a pioneer for women's rights (which drew a snort from a Walmart worker sitting next to me) and went through Burnett citing her own feminist heroes. It seemed designed to wash away the history of Dukes v. Walmart, the major sex discrimination case tossed by the Supreme Court in 2011 and the complaints of Walmart moms, who went on strike for better family leave and accommodations for pregnant workers. If you're in that arena, you're in the Walmart family.

"They do make a family," Ray Scott said. "But we're not part of their family." Though CEO Doug McMillon was famously once an hourly associate, the handing down of the chairmanship against the wishes of worker-shareholders was a reminder that despite all the cheery words, there is little chance for most associates to scrape together a savings, let alone run the company. For Scott, the family is his coworkers in Chicago. They're why he joined OUR Walmart.

It's a story I've heard many times from Walmart workers. Tyfani Faulkner from Sacramento, California, told me about last week's lead-up action, a tent city outside of the Chinatown Walmart and a 24-hour hunger strike. "We put ourselves in the place of the 2,200 laid-off workers," she said. "They could be starving, they could be sleeping in tents." The Walmart company culture encourages them to think of themselves as a family – and when they see their family being treated badly, they stand up and protest.

After Rod Stewart had sung his final notes, I followed a group of OUR Walmart members down to the floor of the arena. Venanzi Luna, flanked by her colleagues, approached McMillon and asked him if she and the others from her store would be reinstated. He told her he was sorry, but, she told me, he wouldn't commit to giving her her job back.

OUR Walmart knew they weren't going to win at the meeting. "We're behind enemy lines," Scott said. From the time they got on the plane to Bentonville, Scott and Faulkner said, they knew they were on Walmart's turf.

They believe they will win by keeping up the pressure, with more actions at stores and more public events drawing attention to their situation. Though they brought a smaller group to the meeting this year, they believe they're getting to Walmart – both the raise and the shuttered stores attest to that.

"We're not going away; get used to it," Sellers said.


Source URL