Forward
Washington's 15 year assault on Venezuela opens, closes, and reopens on a number of different fronts including the attack on the bolivar, the Venezuelan currency; the economic war with the current tactics of hoarding, dumping and smuggling food and other essential products out of the country; stopping or cutting down production by opposition controlled industries; paying common street thugs to murder and create violence; high profile assassinations of police, military officers and politicians by US/Uribe-supported Colombia paramilitaries; violent attacks on government institutions and government buildings; infiltration and bribery of officials; sabotage of the infrastructure, cutting off electricity, gas and water to homes and business and the current coup attempt remove President Nicolas Maduro from office either by means of a referendum or by another violent coup-attempt; and a direct attack on the Maduro government by Luis Almagro, current Secretary General of the US-dominated Organization of American States.
Another current attack by the US "Human Rights Groups" and the corporate media centers around Leopoldo Lopez. In the article below, Joe Emersberger provides a gripping account of another tactic within Washington's overall strategy for regime change: portraying a violent criminal and coup-organizer as a victim of the state. Leopoldo Lopez is the wealthy son of a wealthy opposition family who was finally arrested - far too late - given a fair trial and convicted of numerous crimes against the people of Venezuela which Emersberger accurately describes in detail. Lopez is now serving a 13-year sentence where he "languishes" in a well-protected comfortable prison cell and serves as a "political prisoner" and a cause célèbre for the media war against the Venezuelan government. Throughout my city, large murals appear on buildings and walls crying out for his release. Each time I pass one in my car, he breaks my heart. Meanwhile, his wife travels the US and Europe begging governments and corporate media to help free her husband. Venezuelans know them as "Ken & Barb."
Lopez was born into a wealthy family of media moguls, his father an executive at El Nacional, a rabid opposition newspaper with nationwide circulation. His mother is Vice President of the opposition media conglomerate, Cisneros Group which is run by Gustavo Cisneros, one of the world's richest men with a net worth pegged at $4 billion by Forbes (2014). Like Lopez, he was educated in the US. Born in Caracas, he holds citizenships in Venezuela, US and Dominican Republic. He was a key opposition force in the short-lived 2002 coup in Venezuela but now finds refuge in Dominican Republic. Between 2009-2013 he donated $1 million to the Bill, Hillary and Chelsea Clinton Foundation. The Cisneros Group has diversified from entertainment and digital media into real estate investment, tourism and consumer product companies, reaching 550 million Spanish and Portuguese-speaking consumers in the Americas and Europe, and providing media content to more than 100 countries. Leopoldo Lopez' family history includes a long list of former members of the Venezuelan oligarchy including the country's first president, a Secretary of Agriculture, a Minister of Education and 2 medical doctors, the founders of the Centro Medico of San Bernardino, a wealthy enclave in Caracas. These are people who like Leopoldo Lopez never lost their wealth but chafe at the loss of their control of the government with the advent of the Bolivarian Revolution in 1999.
Lopez was trained from his youth in the United States. He graduated from the Hun School of Princeton, a private boarding school in New Jersey for kids from wealthy families before receiving a degree in Economics and Sociology from Kenyon College in Gambier, Ohio. After Kenyon College he received a Master's degree in Public Policy from Harvard University's Kennedy School of Government. In 2007, Princeton awarded him with an honorary Doctor of Laws Degree.
With this training and preparation he emerged as the golden boy of the US as they funded the opposition for regime change in Venezuela. According to an article published in The Mall, the Hun School student newspaper (since removed from the internet) a fellow student described him as being, "very good at getting people psyched ... I am sure these qualities will help him lead Venezuela out of the third world some day." The article noted that Lopez planned to attend graduate school, and then eventually "return to his country where he hopes to go into politics and improve Venezuela." Lopez is then quoted, "Being away from home created an awakening of the responsibility I have towards the people of my country. I belong to one percent of the privileged people, and achieving a good education will hopefully enable me to do something to help my country." That was in 1989, 10 years before Hugo Chavez Frias was elected president of the Bolivarian Republic of Venezuela, and before Kenyon College and Harvard University where his grooming was completed for re-entry into Venezuela as a counter-revolutionary.
When he returned to Venezuela after growing up from adolescence in the United States, he was twice elected Mayor of Chacao from 2000-2008. Chacao is the wealthiest municipality in Caracas and some say in the whole of South America. The Chacao Police Department, under the control of Chacao mayors, is notoriously corrupt and has also been a major source of violence for the last 15 years. On May 28 this year, it was the Chacao police who were directly involved - if not the actual killers - who shot dead Felix Velasquez, a retired Venezuelan Army Major General, while in his car with his 5 year old granddaughter. Major General Velasquez served as commander of the Bolivarian National Militia under President Chavez and was Chief of Military House, a wing of the army responsible for the safety of the president. The assassin's motorcycle and the guns used in the murder were property of the Chacao Police Department. The Minister for Interior Relations, Justice and Peace, Gustavo González López, reported the results of a subsequent investigation into the Chacao Police Department. Authorities found: five 9mm pistols with erased serial numbers, and found that 17 9mm pistols. 30 rifles and 27,500 9mm cartridges on their records were missing. When thinking about the other assassinations, criminal gangs and street violence in Venezuela, one might wonder into whose hands those weapons went.
On June 7, Venezuelanalysis reported,

"Citing an unnamed source, the Venezuelan newspaper Últimas Noticias published last Wednesday that in addition to US training, a group of POLICHACAO officers have also allegedly received training by Israeli forces. The US and Israel have gained notoriety for their involvement in training and financing state security forces across the Americas, fueling allegations of rampant human rights abuses, repression and counterinsurgency tactics."
During the initial phase of the 90 day probe into the police department, President Maduro gave public evidence that their officers were training in the US with US police and in daily communication with the US Embassy in Caracas: "We found that a group of officials and officers are training in the United States, sent by the US Embassy. We found a connection between the Director and Sub-Director, [along with] daily conversations with the US Embassy." Since then the government has taken control of the Chacao Police Department while their current mayor remains.
This is the rich Caracas municipality to which Leopoldo Lopez was elected mayor following his US education, where he "belongs to one percent of the privileged people" and hoped his "good [US] education, "will hopefully enable me to do something to help my country." Please read Joe Emersberger's report below on how well the US trained Leopoldo Lopez to help his country.
Les Blough in Venezuela
Editor, Axis of Logic
Biography, Essays
and Poetry by Les Blough


© Copyright 2016 by AxisofLogic.com 

This material is available for republication as long as reprints include verbatim copy of the article in its entirety, respecting its integrity. Reprints must cite the author and Axis of Logic as the original source including a "live link" to the article. Thank you!


---
OAS Head Luis Almagro's 'Dear Friend' Leopoldo Lopez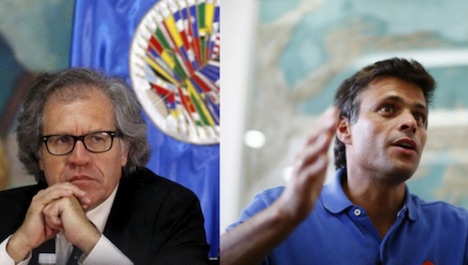 OAS head Luis Almagro (left) and Leopoldo Lopez (right) | Photo: Reuters




Ugly motives drive Almagro's hero worship of Lopez.



Organization of American States President Luis Almagro's prostration before jailed Venezuelan politician Leopoldo Lopez keeps getting more outrageous.

In an open later dated August 22 Almagro wrote:

"My dear friend Leopoldo:

To be sincere, when you were arrested, I was not sure you if you were a political prisoner. The government had converted lies into a regional truth. When I read the judgment against you, I grasped with each word the horror your country is living.





In one way or another you are both prisoners, victims of the ultimate expression of human misery, the denial of all rights, from the most elemental social and economic rights, to the most basic liberties.Your luck is so closely tied to your country's that you will surely be free only when your country is. And if the government thinks it is possible to break you it is only because it erroneously believes it can break Venezuela."



Almagro goes on to apologize for the presumption of calling Lopez a "friend" despite never having met him, but claims that he feels so deeply what Lopez and Venezuela are going through (Lopez and Venezuela are pretty much interchangeable to Almagro) that he can't help it.

I've also read the judgment that supposedly ignited Almargo's unbridled passion for Lopez/Venezuela. Lopez is not in jail because he is a vehement, high profile critic of the government. Anyone who is honest will admit that such people are all over Venezuela's media and always have been during the "chavista" era (post-1999). Lopez is in jail because in February 2014, for a second time since 2002, he participated in an effort to violently overthrow the democratically elected government.

Roberto Lovato, in a Foreign Policy piece that was an extremely rare break from the hagiography written about Lopez in the U.S. media, wrote in detail about Lopez's participation in the April 2002 coup that installed a dictatorship under the business leader Pedro Carmona. Lopez was caught on video leading the "arrest" of a government minister, bragging about it on TV, and explaining that he was keeping "President Carmona" updated. During its two days in power, Carmona annulled the constitution voters had ratified and dismissed the Supreme Court and all elected officials. Twenty six people were killed during Carmona's failed effort to put down the mass uprising that restored the elected government. The U.S. government funded groups involved in the coup before and after it took place. The New York Times was even more uninhibited in cheering the coup than the Bush administration. The response to the coup from Human Rights Watch, a group that passionately supports Lopez today, was absolutely pitiful.

Lopez should have received a lengthy prison term for what he did in April 2002 as he would have, at the very least, had he done this in the U.S. or in any other country. The case against him was irrefutable – and it would not have relied at all on problematic incitement laws as it has since he was arrested in 2014. Lopez benefited from an ill-advised amnesty that President Chavez granted numerous participants in the 2002 coup. Had Venezuelan continued along the path of economic growth and poverty reduction that it was on until the death of Chavez in 2013, the amnesty would not have been as big a problem. The worst elements in the opposition would have continued to weaken as was happening for a short period even after Chavez's death. Consider that Juan Nagel, an opposition blogger who has been denouncing the Venezuelan government for over a decade, outraged many of his allies by praising Roberto Lovato's expose of Lopez as "accomplished."

Unfortunately, as Venezuela's economic problems have worsened; Lopez's faction has been emboldened, its tactics and objectives re-embraced by "moderate" factions, and, quite predictably, supported by all the same institutions outside Venezuela that responded so disgracefully to what happened in 2002.

Lopez called his supporters into the streets in February of 2014. The consequences were extremely predictable given what he did in 2002. Police officers and government supporters account for about half the protest-related deaths that resulted. His goal of ousting the government was never hidden. His claim that he wanted to non-violently overthrow the government should fool nobody. Lopez criticized former presidential candidate Henrique Capriles for calling off protests in 2013 after several people were killed by Capriles' supporters. Lopez insists that Capriles would have become president in 2013 had he not called off those protests – the deaths, especially of those who support the government, were clearly as irrelevant to Lopez as they were in 2002.

Decent people - even if they believe Capriles' trial was unfair and that the incitement laws used to convict him were too broad - should be repulsed by Almagro's hero worship of Lopez. Almagro negates the humanity of the victims of the violent protests Lopez led in 2014, the coup he participated in April 2002, and the violent protests he urged Capriles to continue in 2013.

Almagro seems to wager that the U.S.-backed parliamentary coup in Brazil (which he politely argued against months ago but then shut up about) will allow him to become increasing brazen in his support for externally imposed regime change in Venezuela. His letter to Lopez is really a prostration before U.S. power which hopes to regain its lost influence in the region.




Source URL