Illegal fires used to deforest land for palm oil and pulpwood plantations are raging again today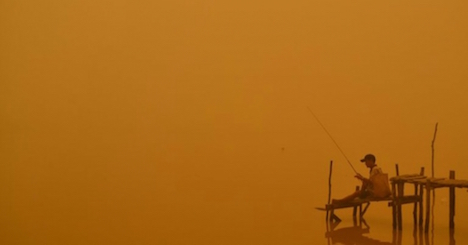 A boy went fishing in Palangkaraya, Indonesia, in the midst of last year's deadly haze. (Photo: Haris Sadikin/AFP/Getty Images)


As illegal forest-clearing fires once again burn acres of tropical peatland in Indonesia, new research on last year's deadly blazes estimates that 100,000 people died prematurely from the toxic haze that resulted from the fires.

The fires are set each year to cheaply and quickly clear tropical peatland for palm oil and pulpwood plantations. While technically illegal, Indonesia has historically failed to regulate the devastating practice.

An Indonesian scientist described the fires last year as a "crime against humanity," and NASA characterized the out-of-control blazes as the worst climate disaster on Earth at the time, as Common Dreams reported.

Yet the Indonesian government last year only reported 19 deaths from the blaze that forced school closures and grounded flights in the neighboring countries of Malaysia, Singapore, and Thailand.

Now, research from scientists at Harvard and Columbia estimates that the human death toll was over 5,000 times the government estimate.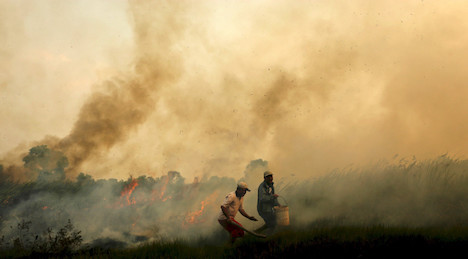 Residents carry water as they try to extinguish fires near their homes at Pal 7 village in Ogan Ilir district, Indonesia's South Sumatra province, September 3, 2015. © Antara Foto / Reuters


The study, published Monday in the journal Environmental Research Letters, "combined satellite data with models of health impacts from smoke exposure and readings from pollution monitoring stations," the Guardian notes.

The results led the researchers to estimate that 100,300 died from the toxic haze that blanketed the region for weeks in 2015. They estimated 91,600 deaths in Indonesia, 6,500 in Malaysia, and 2,200 in Singapore.

And those estimates are conservative, Greenpeace International observed in a statement:

The cost to human health calculated in the new report is a conservative estimate, because the study did not include the impacts of the cocktail of other toxins which formed part of the haze, such as carbon monoxide, formaldehyde, hydrogen cyanide, arsenic and a host of others. It considered only premature adult deaths brought on by breathing high levels of smoke particles known as PM2.5. Measuring 2.5 micrometres or less, they are small enough to be inhaled and some are small enough to be absorbed into the bloodstream. They are known to cause deaths due to lung, heart and circulatory diseases including asthma, heart attack and stroke. Harm to children and pregnancies was not included, although the report notes that "impacts on children are likely significant."



Indeed, Greenpeace International also quoted Dr. Nursyam Ibrahim, deputy of the West Kalimantan chapter of the Indonesian Medical Association, saying that the "greatest impact from breathing particles from peat fire smoke falls on vulnerable groups such as the elderly, pregnant women, babies, and children."

"The Indonesian Medical Association in West Kalimantan calls on all parties to work together to prevent fires, especially in peatlands," Ibrahim added. "What is at stake is a decline in the quality of Indonesia's future human resources. We are the doctors who care for the vulnerable groups exposed to toxic smoke in every medical center, and we know how awful it is to see the disease symptoms experienced by babies and children in our care."

The toll wasn't limited to humans, of course. Orangutans were also displaced and sickened by the thousands as their habitats went up in smoke.

And the disaster continues, as fire season is once again well under way in Indonesia. Last month, Singapore was again blanketed in the toxic haze produced by Indonesia's plantation industry's "slash and burn" practices.

Several weeks ago, environmental groups also reported that the illegal practice of burning peatland was spreading to the relatively untouched province of Papua.

"More than a hundred thousand are estimated to have died prematurely last year. Now fires are back again. If nothing changes, this killer haze will carry on taking a terrible toll, year after year," said Greenpeace Indonesia forest campaigner Yuyun Indradi. "Industry and government must take real action to stop forest clearing and peatland drainage for plantations."

"Now that we know the scale of the death toll, failure to act immediately to stem the loss of life would be a crime," Indradi concluded.




Source URL