Over Eight Decades Later, Tuskegee Study's Descendants Continue to Seek Justice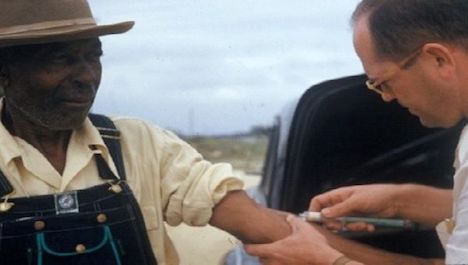 An unidentified participant of the "Tuskegee Study of Untreated Syphilis in the Negro Male" is seen being tested. | Photo: National Archive


Over the course of four decades, the U.S. government knowingly misled and denied treatment to hundreds of Black men suffering from syphilis.
Eighty five years after the start of one of the most notorious clinical studies in the United States, descendants of the hundreds of Black men who were purposefully denied medical care and left to suffer with a treatable sexually transmitted disease — which many didn't even know they had — continue to struggle to define how the unethical study and its victims will be remembered.

In 1932, the U.S. Public Health Service selected nearly 600 Black sharecroppers from the rural Macon County of Alabama in the segregated South to record the progression of the horrid illness and study the bodies of the men after they succumbed to the illness by withholding the treatment for syphilis.

Tuesday marks 20th anniversary of when former U.S. President Bill Clinton publicly apologized for the U.S. government's horrific role in "Tuskegee Study of Untreated Syphilis in the Negro Male," the longest and one of the most immoral medical treatment studies ever conducted in U.S history.

In the early 1900's, syphilis affected nearly 35 percent of the population in the region. The participants were promised free medical checks, free food, free transportation and burial insurance in a county where many Blacks had never even seen a doctor.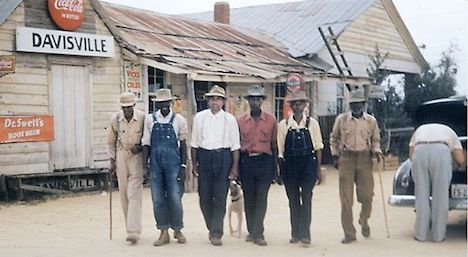 A group of men who were subjects of the Tuskegee experiment | Source: National Archives


The victims of the egregious study were tested and sorted into groups — 399 with syphilis and another 201 who were not infected. They were never asked to consent to take part in the four-decade-long project. The doctors hid the study's aim from the men on purpose, subjecting them to painful spinal taps and blood tests during the study's early months.

They were provided with pills and tonic to make them believe that they were actually being treated. Even though penicillin became a standard treatment for syphilis in the mid-1940s, the doctors never provided the treatment to the men in the study.

Family members and friends of the study's participants have been meeting privately each year to honor the participants of the study. For the first time this year, the descendants allowed the Associated Press to attend the annual ceremony to make the event publicly known. In 1972, it was AP that exposed the horrific study to the world, finally putting an end to it.

The meetings are held in conjunction with Tuskegee's National Center for Bioethics in Research and Health Care, established in 1999 to address ethical and human rights issues in science, particularly concerning minorities. This year's ceremony included about 110 descendants, friends, community members, a gospel choir from Tuskegee University and public officials.

Lille Tyson Head, the daughter of study participant Freddie Lee Tyson, told the AP, "It was important that the people of Macon County knew what the descendants were doing, and it gave them a chance to come out and be a part not only of the healing but also remembering of the men."

In 1973, a year after the study ended, a class action lawsuit was filed on behalf of the participants of the study. The study was deemed "ethically unjustified" and the U.S. government agreed to pay US$10 million in an out-of-court settlement. The Tuskegee Health Benefit Program was also established to provide lifetime medical benefits and burial services to all the living participants. The participants of the study, along with 9,000 of their relatives, were compensated for decades with the funds from the settlement.

But part of the lawsuit lives on until this day, outliving all the members who filed it. The litigation that that could help determine the course of study's final legacy rests in the federal courthouse of Montgomery.

U.S. District Judge Myron Thompson is considering a request Fred Gray filed in August last year to use the remaining money to fund the operation of the Tuskegee Human and Civil Rights Multicultural Center, a combination museum and town welcome center that includes a display about the syphilis study.




Source URL