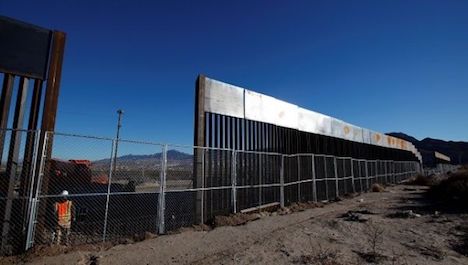 A worker stands next to a newly built section of the U.S.-Mexico border fence at Sunland Park, U.S. opposite the Mexican border city of Ciudad Juarez, Mexico. | Photo: Reuters


Donald Trump, quite rightly, has been given a hard time over his U.S.-Mexico border wall. In his book "Time to Get Tough," then-candidate Trump wrote about using drones and other hi-tech means to keep poor, low-skilled migrants out of the United States. Distinguishing between poor, low-skilled migrants and middle-class, high-skilled migrants, is the key to understanding the administration's policy. In his book "Great Again," Trump emphasized that he is not actually against immigration; he says he's against illegal immigration.

As well as ignoring the fact that the wall was built by Democrat Bill Clinton (Operation Gatekeeper) to keep out the millions of Mexicans whose lives had been destroyed by the Reagan-Bush I-era North American Free Trade Agreement, the mainstream U.S. media also ignore the fact that liberal-leaning multi-billionaires also wanted to control migration.

In this article, the word "liberal" is used to describe centrist Democrats, who are in reality right-wing and in some cases far-right Republicans in disguise. Republicans and alt-right supporters are now so far to the right that they are off the map.

Many CEOs and co-founders of the tech giants--Amazon, Apple, Facebook, Google, Twitter and YouTube--donate to the Democrats and in doing so give themselves a veneer of liberal appeal. Gregory Ferenstein writes: "[America's] tech titans don't have much faith that the Republican party has good long-term economic policies for emerging industries. More and more, the richest Americans are donating more to Democrats than Republicans."

Facebook co-founder, Mark Zuckerberg, donated $10,000 to the Democratic Party in San Francisco in 2015. Zuckerberg also criticized Trump's inhumane immigration policies. Zuckerberg has had some high-profile dealings with Hillary Clinton, but more quietly he has donated to several Republicans: Sean Eldridge, Orrin Hatch and Marco Rubio.





The rest of this article is taken from my new book, "President Trump, Inc."



Hi-tech "liberals" like Zuckerberg had been lobbying for years to close and/or militarize the U.S.-Mexico border. Their plan was to stop low-skilled migrants from coming in (whom people like Trump alleges are a drain on social security) and to replace them with high-skilled workers. Because the U.S. education system is one of the worst in the developed world, there is a skills shortage, particularly in the hi-tech sector. This is a problem for the U.S., which wants to lead the world in hi-technology. Their solution to this problem is to grant long-term working visas to high-skilled foreign workers and to fast-track citizenship for high-skilled foreigners living in the U.S.

In 2011, Obama attended a dinner with Steve Jobs (Apple) and Mark Zuckerberg (Facebook). Jobs told Obama that Apple "employs 700,000 factory workers in China because he cannot recruit 30,000 engineers in the United States." In 2013, the Information Technology Industry Council and the U.S. Chamber of Commerce wrote a report advocating immigration reform. The report notes that "skills gaps are found at companies large and small all over the US economy."

Of particular concern for the tech sector is the absence of American students who qualify in Science, Technology, Engineering and Math (STEM). "Foreign-born students make up 41 percent of masters and 45 percent of PhDs in STEM at U.S. universities," the report continues. "At the top 10 patent-producing U.S. Universities … more than 3 out of every 4 patents (76 percent) the schools received in 2011 had an immigrant inventor."

The report laments that "under current immigration laws, many of these students have to leave after they graduate because there is no clear path for them to stay in the U.S." The report recommends that "[t]o spur innovation, meet labor force needs and help the economy grow, Congress should reform immigration laws to recruit and retain more foreign-born STEM workers trained in US universities."

In the same year, left-leaning multi-billionaires pushed for immigration reform via their newly-founded FWD.us group. Contrary to the myth that Trump and Trump alone is a hardliner on migration, the FWD.us website makes clear that Bill Gates et al. wanted to shut the borders to poor, low-skilled migrants and streamline citizenship and visas for high-skilled ones—long before Trump ran for president. To quote the website's Secure Our Borders section: "Providing law enforcement the tools necessary to secure the border will allow them to focus resources on enforcement priorities such as violent criminals and terror threats."

Politico reports that FWD.us was formed by tech giants, such as Zuckerberg and Gates, but also LinkedIn's Reid Hoffman and Google's Eric Schmidt. Between 2013 and 2014, FWD.us "accounted for 75 percent of all paid media spent … to support immigration reform and had field operations in 29 states and 149 target House districts at the peak of the debate." Many of these organizations and the individuals associated with them wanted Hillary Clinton to win and financed the Clinton presidential campaign. But, crucially, the organization doesn't work in isolation. It finances both Republicans and Democrats.

Reuters says: "FWD.us's political operation is managed by a group of Washington insiders with leadership roles in both Republican and Democratic organizations. It joins other technology groups and alliances lobbying Congress for more H-1B visas for high-skilled workers and easier hiring of foreign math, science and engineering experts." The multi-billionaires preferred Clinton, but they were happy to work with Trump. The Republican and FWD.us campaign manager Rob Jesmer said of the 2016 presidential campaign: "If we have a pro-reform Democrat and Republican, then this is great news … What the project looks like somewhat depends on who the candidate is."

In 2015, Amazon, Apple, Facebook and Google stepped up their lobbying efforts to reform immigration laws. Astonishingly, the anti-immigration policy (which favours a small number of high-skilled migrants over the larger number of low-skilled ones) is portrayed in the media as a pro-immigration policy. The media succeeds in its false portrayal by ignoring pro-border militarization statements on the FWD.us website.

But it would seem that Trump went too far. In February 2017, Apple et al. drafted a letter to Trump: "We share your goal of ensuring that our immigration system meets today's security needs and keeps our country safe … We are concerned, however, that your recent Executive Order will affect many visa holders who work hard here in the United States and contribute to our country's success."




T.J. Coles was awarded a PhD from Plymouth University (UK) in 2017 for work on the aesthetic experiences of blind and visually impaired people. His books include

Britain's Secret Wars

and

President Trump, Inc.




Source URL