Editor's Note: While this article addresses the roughly 4,000 agricultural workers who come to Canada from Guatemala, it should be made clear that Canada accepts more than 30,000 workers in total, coming not just from Guatemala but also from Mexico, Jamaica, and several other Caribbean nations. They come under what we call the 'Seasonal Agricultural Worker Program' (SAWP) which works along side our 'Temporary Foreign Worker program (TFW).

We've been doing this for fifty years. Our agriculture industry refers to these workers as the 'backbone' of Canadian agriculture.

The rules for each program are different but in one regard they are equal: the barbaric treatment of these workers.

They are allowed to work on one farm only - even if a farm no longer has need of the help, the migrant cannot go to the farm next door that does need help. And - most important - the employer is absolutely exempt from all labour laws (wages, hours, health & safety, and so on).

The hovels housing these workers (for example, a crowded barn holding 150 men and/or women sleeping on cots) are beyond all understanding. We treat these workers as indentured servants, often working them 16 hours a day with no days off.

The one 'perk' afforded these workers is that they are entitled to medical care under Canada's provincial health insurance plans. However, when a worker needs to seek medical care, he or she is often 'medically repatriated' to their home country.

The worst insult might be that they are forced to pay into two Canadian insurance programs (loss of job insurance and Canada Pension Plan) and will never EVER receive any benefit from either program.

A Globe & Mail article from September 19, 2016 notes an interview with one farmer who said:

"...

that he enjoyed getting to know the migrants, especially one worker who had been returning to one of his greenhouses for 27 years. For nearly three decades, then, a person who laboured to produce Canadian food had spent two-thirds of the year away from home, in a situation that affords no possibility of citizenship, no pension and no guarantee of health care here after an injury."



Canada should wipe that smug look off its face. This is similar to how we treat our indigenous people but at least the farm workers can escape back to their homelands. Our indigenous people cannot - they're already home.


---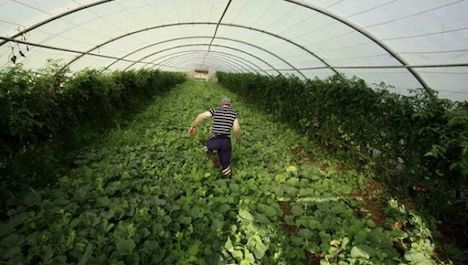 Currently, there are roughly 4,000 seasonal Guatemalan workers in Quebec. | Photo: Reuters


Guatemalan agricultural workers recruited to Quebec, Canada are saddled with debt, charged exorbitant fees by recruiters, and work under precarious conditions, according to a new report.

The study, titled, "Who, How and How Much? The Recruitment of Guatemalan Workers to Quebec", is a collaborative project between the Université du Québec à Montréal (UQAM), and UFCW Canada (United Food and Commercial Workers union) and the Agricultural Workers Alliance (AWA), among others.

Researchers interviewed migrants from Guatemala enrolled in Canada's Temporary Foreign Workers (TFWs) program.

They found many people take out enormous loans to cover the fees and expenses charged by recruiters on behalf of Canadian employers.

"The economic exploitation of Guatemalan TFWs is not a new phenomenon. Exorbitant recruitment fees charged both by recruiters, and in the past by organizations like the International Organization for Migration (IOM) only add to the ongoing precariousness that workers experience both in Canada as well as in Guatemala," stated UFCW Canada National President Paul Meinema in a press release.

"UFCW Canada has had a long history of fighting to eradicate recruiter fees and to improve the working and living conditions for all agricultural workers across the country," he added.

"These debts may explain why TFWs are generally not inclined to act on their labor rights if and when things go wrong," explained Dr. Dalia Gesualdi-Fecteau, a professor at UQAM and the lead author of the report.

"They don't want to do or say anything that might, in their perception, jeopardize their employment and their ability to repay their debts," she pressed.

The situation for the workers deteriorated in 2011, when then-Conservative Prime Minister Stephen Harper enacted the "four-in and four-out" rule.

It stipulates that when workers reach their four-year limit, they must leave the country and wait another four years for a new work permit.

As a result, many Guatemalans have disappeared from Quebec farms, as they try to avoid being sent home at the end of the agricultural growing season.

CBC reported that in 2016, more than 100 workers were unaccounted for, many having reached the end of their four-year limit.

"They face a dilemma," Denis Hamel, the head of FERME, an organization that brings the workers to the province, told CBC Montreal's Daybreak.

"Either they go back to their country for four years or stay here illegally and try to find a job to be able to send money to their family, knowing that if they get caught by police or the border services agency, they will be sent back and they won't ever be able to come back to Canada or the U.S," she added.

Currently, there are roughly 4,000 seasonal Guatemalan workers in Quebec and around 6,000 in all of Canada.




Source URL