In marked contrast to the United States' fickleness in Middle Eastern affairs, Russia is seen as a more consistent actor by Middle Eastern leaders, a potential ally offering much-needed stability. Putin's new position as the "new master of the Middle East" seems all but set in stone.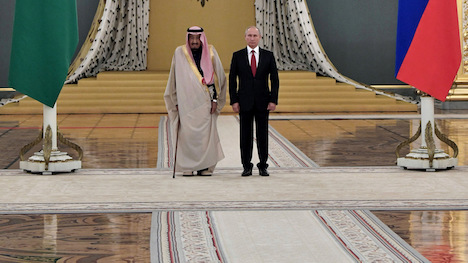 Russian President Vladimir Putin, right, and Saudi Arabia's King Salman pose for a photo during a welcoming ceremony ahead of their talks at the Kremlin in Moscow, Russia, Thursday, Oct. 5, 2017. (Alexei Nikolsky/Pool Photo via AP)


After Israel, Saudi Arabia has long been considered to be the United States' greatest ally in the Middle East, a fact evidenced by long-standing Saudi-U.S. joint policies such as the petrodollar system, weapons deals, and Saudi support for broader U.S. geopolitical goals in the region. However, this foundational relationship of U.S. foreign policy in the Middle East appears to be changing rapidly, with the Saudis – in the footsteps of other, former U.S. allies in the region – surprisingly pivoting towards Russia, America's geopolitical arch-rival.

Saudi Arabia's warming relations with Russia became evident last month when Russian Foreign Minister Sergei Lavrov arrived in Riyadh for talks. During Lavrov's visit, the Saudis began to soften their long-standing stance – re-articulated only a month prior – that Syrian President Bashar al-Assad must be removed from power. The shift was cemented by King Salman's visit to Moscow last week, the first such trip ever taken by a reigning Saudi monarch.

Following the visit, the Saudis have abandoned their call for Assad's removal from office, and are refraining from criticizing the role of Russia's military in countering extremist groups in Syria, many of which are funded by the Saudis. Al Jazeera suggested that, in turn, Russia had softened its criticism of the Saudi-led war in Yemen.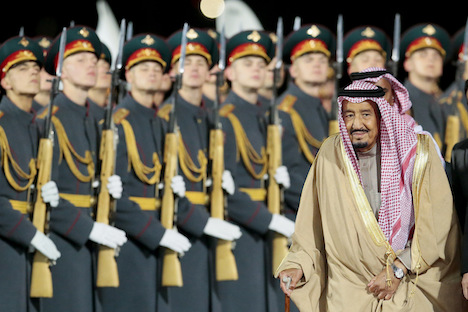 Saudi King Salman reviews a honor guards upon arrival in Moscow's Government Vnukovo airport, Russia, Wednesday, Oct. 4, 2017. The King's visit is the first trip to Russia by a sitting Saudi monarch. (AP/Ivan Sekretarev)



Russian-Saudi cooperation on expanding fronts, once Washington's province
However, the Saudi king's visit broached much more than a dramatic shift in Syria policy. The two nations – long rivals in the oil sector – launched a joint energy investment fund worth $1 billion, which included natural gas projects and petrochemical plants. Saudi state oil company Aramco also signed a deal with Russian petrochemical company Sibur to further cooperation regarding oil refining. The Saudis, having shown prior interest in building nuclear power stations, also made a deal with the Russian nuclear monopoly Rosatom for 16 nuclear power stations valued at approximately $100 billion.

In addition, a large delegation of Saudi businessmen, composed of 85 CEOs and 200 corporate representatives, accompanied the King to Russia and plan to invest as much as $10 billion in Russian businesses.

Arms agreements were also explored and King Salman is now expected to sign a $3.5 billion arms deal with Russia. While few details on the specifics of the arms deals have been made available, the Saudis will be purchasing ballistic missiles and air defense systems, including the s-400, from Russian manufacturers as part of the deal. While the Saudis remain one of the top buyers of U.S. arms — as evidenced by the Trump-brokered $110 billion weapons deal earlier this year – the Saudi's decision to give a significant market share of their weapon purchases to Russia, the world's second-largest exporter of arms and chief U.S. rival in this regard, is undoubtedly unsettling to American interests and a major indication of Saudi displeasure with the United States.

Indeed, the U.S. quickly expressed its displeasure with the Saudi government's pivot towards Moscow. For instance, the Pentagon's recent decision to halt military exercises with "Arab allies" came just a day after King Salman's trip to Russia began. Though the decision was advertised as having been intended to rebuke the Saudis and their closest allies for their on-going spat with Qatar, the fact that the announcement coincided with the Saudis visiting Russia — and came several months after the diplomatic crisis with Qatar began — suggests an ulterior motive. The U.S. also quickly approved the sale of the advanced Terminal High-Altitude Area Defense (THAAD) missile defense system to the Saudis for $15 billion. The approval of the THAAD purchase also came the day after it was announced that the Saudis had agreed to buy an air defense system from Russia.

The strange mixture of rebuke and reward suggests that the U.S. has adopted a "carrot and stick" approach whereby it makes its displeasure known while simultaneously appealing to the Saudi's desire for weapons and lucrative investment opportunities.



A rapid turning of the geopolitical worm


The U.S.' drastic loss of influence in the region may come as a surprise to Washington, which had apparently assumed that the Saudi's dependence on the U.S. would prevent them from seeking stronger ties with the U.S.' competitors, especially a major U.S. rival such as Russia. However, the U.S.' failure in Syria, their political inconsistencies, and penchant for military intervention in the region have led to the gradual ebbing of influence, limiting most ties between the U.S. and its Middle Eastern allies to a focus on military and counterterrorism cooperation in the region.

It also seems that King Salman's ambitious heir and de facto Saudi ruler, Muhammad bin Salman (MBS), was misjudged by the American establishment. MBS is apparently so committed to his much-touted 2030 plan that he is willing to diversify wherever practical in order to bring to fruition his ambitious overhaul of the oil-dependent Saudi economy.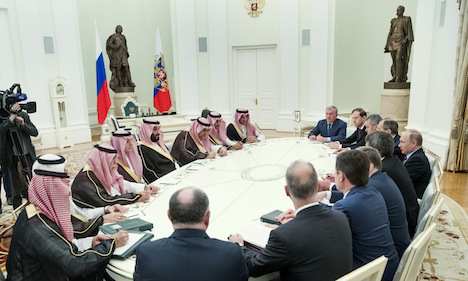 Russian President Vladimir Putin, right, meets with Saudi Deputy Crown Prince and Defense Minister Mohammed bin Salman, fifth left, in Moscow's Kremlin, Russia, Tuesday, May 30, 2017. (AP/Pavel Golovkin)


In contrast to the U.S.' fickleness in Middle Eastern affairs, Russia is seen as a more consistent actor by Middle Eastern leaders, a potential ally offering much-needed stability. As Cyril Widdershoven noted at Oil Price:

The U.S. and its European allies have only shown a diffuse political-military approach to the threats in the MENA [Middle East and North Africa] region, while even destabilizing historically pro-Western Arab royalties and presidents."



Putin's friendship, however, is being presented as unconditional and enduring, with Russia's relationship with historic allies such as Syria providing testaments to this. Putin's drastically different leadership style has allowed Russia to cultivate ties with nearly every Middle Eastern country, allowing Russia to play both sides of the field in a region known for its stark geopolitical divisions.

In addition to Saudi Arabia, Russia has also fostered alliances with several other countries with close U.S. ties, such as Jordan, Qatar, Turkey and even Iraqi Kurdistan – all while maintaining its long-standing alliances with Iran and Syria. Even Israel has been seeking closer ties with Russia, as evidenced by Prime Minister Benjamin Netanyahu's four visits to Russia over the past 18 months. Putin's new position as the "new master of the Middle East" seems all but set in stone.

This is especially true in light of the unlikelihood that the U.S. will be able to strong-arm the Saudis into backing out of closer ties with Russia. The U.S. is precariously reliant on the Saudis for their support of the petrodollar system — a policy negotiated in the 1970s whereby the Saudis, as de facto leaders of OPEC, would create a standard maintained by oil-producing nations selling their oil exclusively in U.S. dollars. This creates artificial demand for U.S. dollars, enabling decades of irresponsible American monetary policy and preventing a collapse of the currency.

With the petrodollar system already under attack from Russia – as well as China and Venezuela – the U.S. cannot afford to anger or alienate the Saudis, who are essentially the final linchpin in a dying system. "Soft" retaliatory measures, such as the canceling of military exercises, along with the promise of lucrative weapons and infrastructure deals, seem to be the only diplomatic "weapon" in the American arsenal that can keep the U.S. from losing what remains of their regional influence. Russia, however, now has much greater maneuverability in terms of influencing events in the region.

As Anatoly Tsiganok, a Moscow-based defense analyst told Al Jazeera:

Three years ago, Washington's actions mattered the most. Now, the situation has changed cardinally; that is why now Middle Eastern nations pay attention to Russia."



Source URL