"The Trump Administration should be held criminally accountable for what they are doing in the U.S. and around the world on climate change."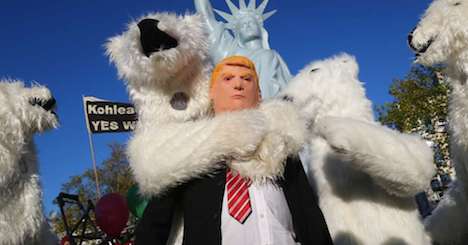 A protester wearing a mask of U.S. President Donald Trump with other protesters dressed as polar bears during a demonstration at the COP 23 UN Climate Change Conference in Bonn, Germany. (Photo: Reuters)


Climate campaigners on Monday said that for the U.S. delegation to promote fossil fuel expansion and nuclear energy at the UN climate summit in Bonn, Germany is to "spit in the face of victims of climate change."

"Trump's actions demonstrate callous disregard—and possibly even genuine malevolence—toward people in poor countries whose lives and livelihoods have been threatened, diminished, and in some cases destroyed by the devastating effects of climate change."
—Karen Orenstein,
Friends of the Earth US

While President Donald Trump—currently on a 10-day trip through Asia—has drawn global scorn for his decision earlier this year to end the U.S. commitment to the Paris climate agreement designed to lower emissions to address the threat of global warming, the skeleton crew sent to represent the country in Bonn was lampooned after changing the name of a sponsored event from one focused on "innovation" and "advanced technologies" to simply, "The Role of Cleaner and More Efficient Fossil Fuels and Nuclear Power in Climate Mitigation."

According to Reuters, the members of the delegation behind pro-fossil fuel event include: "George David Banks, a special assistant to Trump on energy and environment; Francis Brooke, a policy adviser to Vice President Mike Pence; and representatives of coal producer Peabody Energy Corp, nuclear engineering company NuScale Power and liquefied natural gas company Tellurian Inc."

Extolling "the virtues of fossil fuels at the year's most important international climate talks," said Karen Orenstein, deputy director of economic policy at Friends of the Earth U.S., should be considered a "slap in the face to countries that are party to the Paris Agreement—literally every nation on Earth except the United States."

Even worse, she added, "Trump's actions demonstrate callous disregard—and possibly even genuine malevolence—toward people in poor countries whose lives and livelihoods have been threatened, diminished, and in some cases destroyed by the devastating effects of climate change. The Trump Administration should be held criminally accountable for what they are doing in the U.S. and around the world on climate change."

At the conference, NGOs, Indigenous rights groups, and advocates for climate action staged a protest outside the event:

Meanwhile, Andrew Light of the World Resources Institute told the Guardian, "Whoever the Trump administration is trying to target with this event, it isn't people in the negotiating hall – they're clearly focused on the booming global markets in renewable energy. At best, this event will be a curiosity, given the isolation of the U.S. now in the international process."


Source URL