Amid President Duterte's war on the communist New People's Army, nearly 350 Indigenous families are facing what advocates say is clear land theft by mining companies assisted by the Philippine Army and paramilitaries.

The Armed Forces of the Philippines, AFP, have been accused of displacing the indigenous Lumad people in Mindanao and blocking aid shipments of basic food staples from evacuated families numbering in the hundreds, comprising over 1,500 thousand evacuees including hundreds of children.

The food blockade, as civil society groups and social movements have called it, is the largest-scale human rights violation to be alleged following President Rodrigo Duterte's crackdown against perceived sympathizers of the communist New People's Army. On Saturday, Philippine social media was flooded with tweets and posts bearing the trending #NoToFoodBlockade hashtag.

According to the Alternative Learning Center for Agricultural and Livelihood Development, or ALCADEV, 345 families comprising 1,688 individuals from 15 communities were displaced in late November amid increased military counterinsurgency operations by the Philippine military.

"It is clear that their real target is our ancestral lands with large mineral deposits ... But we won't allow anyone to destroy our lands." – Imelda Belandres, MAPASU.

The displaced are now facing restricted food access in their evacuation centers, where assistance by aid organizations and human rights monitors has proven nearly impossible.

"This is the second the time IPs (Indigenous peoples) in the said area have to evacuate after President Rodrigo Duterte declared Martial Law in Mindanao (in May). Along with this is a spate of human rights violations and killings all over the country," the non-governmental organization said in a statement released Sunday.

The Indigenous-led educational center has received top awards in the Philippines for providing secondary education, health education and food security training to the Indigenous people of Mindanao's Caraga region, an area scarcely touched by the Department of Education. Many Lumads also learn to speak Tagalog at the learning institutions.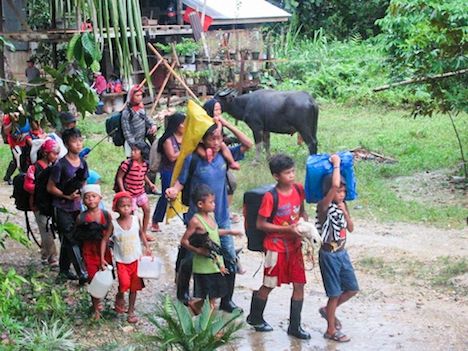 Lumad school-children. | Photo: Friends of the Lumad in Caraga (via Interaksyon)


However, this hasn't stopped armed forces personnel and paramilitaries from terrorizing locals in a campaign of harassment that many claim is driven by an attempt to depopulate their ancestral lands.

"State forces from the 75th Infantry Battalion have been blocking food such as rice, bread and canned goods for the evacuees staying at a community-built IP school," the NGO continued.

"Students and teachers who went out of the camp were also not allowed to get back in. Donations from church groups and humanitarian organizations were also barred from entering the evacuation center."

The communities lie in the Andap Valley Complex, a lush region rich in mineral resources where locals have refused to allow companies to operate, fearing pollution and dispossession.

The Lumad people are no strangers to displacement and forced population transfers. During the period of Spanish colonialism, Lumads were driven into the mountains from the riversides they called home. When the U.S. arrived as the new colonizers, logging companies laid waste to Lumad territories, resulting in a de facto forced population transfer.

The latest wave of displacement has been a product of mining companies' activities, which historically is accompanied by paramilitaries and uniformed personnel burning down schools; destroying farms and generators; and disappearing, torturing or killing villagers and human rights defenders who hope to defend Indigenous peoples' communities.

In September 2015, local hero and Alcadev executive director Emerito "Tatay Emok" Samarca, along with two Lumad leaders opposed to large-scale mining, were brutally murdered in Lianga by paramilitaries in full view of the Phillippine Army's 36th Infantry Battalion. The murders – among 87 caused under then-President Benigno Aquino III – resulted in the displacement of around 2,000 Lumads who only returned to the area about a year later.

Most recently in this past July, President Duterte threatened the same communities by insinuating that they were communist supporters – an allegation that is deadly in the Philippines – while threatening to use the air force to bombard Lumad children's schools for "teaching the children to rebel against the government."

However, the Lumads have persisted through the generations, largely through their own unceasing resistance.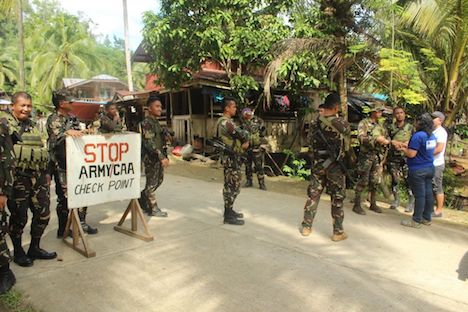 Members of the AFP at the Lumad evacuation camp. | Photo: ALCADEV


"It is clear that their real target is our ancestral lands with large mineral deposits. They are just making the counterinsurgency program an alibi. But we won't allow anyone to destroy our lands. Land is our life," said Imelda Belandres, the chairperson of tribal organization Malahutayong Pakigbisog Alang Sa Sumusunod, or MAPASU.

As a result of mining concessions granted to local and foreign firms, many Indigenous peoples have been among the most consistent supporters of the NPA, who are seen as defenders of their ancestral lands from the processes of "imperialist plunder" facilitated by local comprador elites.

The affinity between the Lumad villagers and the NPA, which is the armed forces wing of the underground Communist Party of the Phillippines, has led to distrust and violence between the so-called "legal army," the AFP, and the Indigenous locals.

Chad Booc, a 23-year-old computer science graduate of University of the Philippines Diliman, began volunteering as a teacher for Alcadev as a means to "serve the people" in the face of dispossession, marginalization and state brutality – longstanding issues rooted in colonialism that he cited when describing how security forces have blocked aid in the past several days.

"Dealing with the AFP is really frustrating – They do not listen to what you say," Booc explained to teleSUR. "They do not allow the entry of food from the donors even when local government officials are with us in negotiating. They did not even allow our students and teachers to enter the area even if they live in the community where the evacuation center is."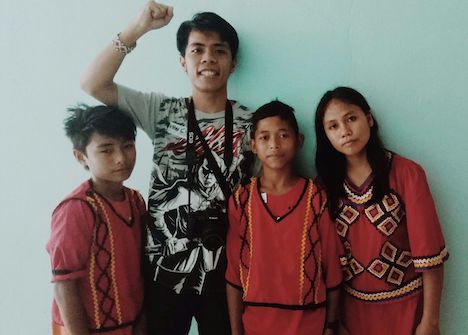 Chad Booc with his students. | Photo: Contributed


"For the IPs, they are beasts. They have already killed hundreds if not thousands of IP and farmers in the countryside," he continued. "When the soldiers are near the community, people had to leave their place for fear of their lives. The military has already killed a lot of their kin and would not want another to be killed."

Even local clergy have faced disrespect and vilification by authorities.

On Saturday, Father Raymond Montero-Ambray – a priest from the local diocese' Social Action Center – posted an ominous status update on Facebook that carried the header "Fieldwork Hazard – BLAME AFP FOR MY DEATH." In the status, Ambray accused Colonel Andres Centino, a brigade commander of the AFP's 401st Infantry Division, of implying the priest's connection to Lumad members of the NPA.

Convinced that the Phillippine military is attempting to build a case implicating him with the nearly 50-year-long armed communist insurgency raging across the Philippines, Father Montero-Ambray noted that he welcomes what could be his martyrdom while serving the Indigenous Lumads of the region:

"While i am still alive, I condemn this AFP's evil ploy on me. I am not afraid to die if it is a price for standing for the least of my brothers and sisters. I am not cowed by this cowardly act.

"The threat I received here is nothing in comparison with the pains, hunger, sickness and discrimination of the Lumad IDPs in Simowao now.

"Working with them is such a privilege.

"Dying for them is an honor."




Source URL