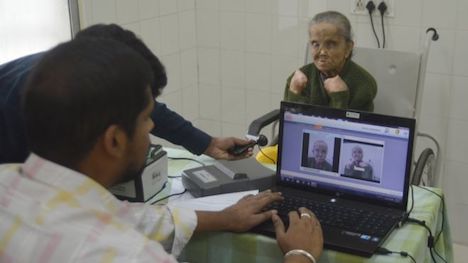 Officials take Sajida Begum's picture for her Aadhaar cardImage copyright BANGALORE NEWS PHOTOS


A leprosy patient in the south Indian city of Bangalore who lost her pension as she was unable to provide biometric data has now been given a new identity card to restore her welfare payment.

Sajida Begum, 65, who is blind and has lost her fingers, was unable to provide fingerprints and a retina scan to obtain her Aadhaar card. The card has been made mandatory for those accessing welfare schemes.

Her case outraged many in India, where there is strong opposition to Aadhaar.

Aadhaar, which means foundation, started out as a voluntary programme to help tackle benefit fraud. However, it has become increasingly necessary for financial transactions and access to welfare.

Sajida Begum told BBC Hindi's Imran Qureshi that she had not received her monthly pension of 1,000 rupees ($15; £11) for four months because she had missed a deadline to link her pension account to an Aadhaar card.

She said she would use her reinstated pension to buy extra cups of tea and a small plate of snacks from the canteen at the hospital where she is a permanent resident.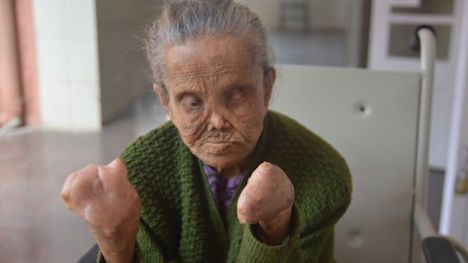 Sajida Begum will now get her pension of $11 a month


A member of the hospital staff told BBC Hindi that officials from the Unique Identity Authority of India (UIDAI) visited the hospital to give her a new card.

"If she has stumps, a full biometric exception is made. The doctor concerned will only verify to our officials that she has no fingerprints," a UIDAI official said.

Sajida Begum's story, which first appeared in a local city newspaper, attracted a lot of attention in India.

Those opposed to the Aadhaar scheme say the government should not be allowed to forcibly take people's biometric details. Activists have also raised concerns over the security of what can be described as the world's biggest biometric database.




Source URL