"Of course, it looks like a desire to reserve the right to interfere in the affairs of others"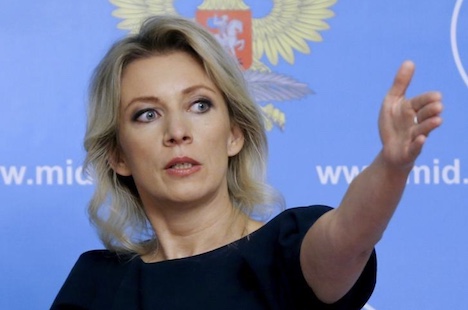 FILE PHOTO: Spokeswoman of the Russian Foreign Ministry Maria Zakharova gestures as she attends a news briefing in Moscow, Russia, October 6, 2015. REUTERS/Maxim Shemetov/Files


Russia has accused the United States of crass interference in the country's domestic affairs, an indicator of the country's double standards and inability to critically scrutinize its own issues.

The comments were made on Thursday by Russian Foreign Ministry Spokeswoman Maria Zakharova following criticism by U.S. State Department Spokesman Noel Clay, who chastised Russia's Central Elections Commission decision to reject anti-corruption activist Aleksey Navalny's application to run in the 2018 presidential elections.

"The US Department of State recently accused the Russian government of pressuring candidates running in the Russian presidential race in 2018, by using strict measures against some independents and inability to protect Russia's space to exercise human rights," Zakharova said, according to Russian news agency TASS.

"Such statements by the Department of State are a direct intervention in the electoral process and the domestic affairs of a foreign country.

"On what grounds do U.S. representatives feel that they are entitled to assess the domestic processes of other countries?

"As for some strict measures against independent 'voices' – in particular, if we're talking about journalists – what specific cases are we talking about here? Can we receive correct information from, let's say, the Department of State, about what agency applies these strict measures and in what way?"

Zakharova stressed that Washington has no right to criticize Moscow's treatment of the press given its own suppression of Russian media outlets in the U.S., adding: "Before saying anything about our system, they need to analyze their own first."

"If our counterparts in the Department of State or in other US agencies continue to make such statements, we will be commenting on them, we'll remind Americans how their electoral processes work and provide the corresponding facts to you," she stressed.




According to Russian news outlet RT, Zakharova later said that U.S. Ambassador to Russia Jon Huntsman had been given a proposal for the Moscow and Washington to mutually guarantee principles of non-interference in one another's internal affairs.

The memorandum laid out Moscow's "readiness to exchange letters or other forms of guarantees of mutual non-interference into electoral and other internal political processes, was again confirmed," and was sent to Huntsman on Dec. 21, the diplomat said.

While the U.S. government and press outlets like The Washington Post have loudly accused the Kremlin of interfering in the electoral processes of the U.S., Russia claims that past attempts to formalize non-interference failed to progress due to the attitudes of U.S. officials.

Such provisions were also included "in the draft of the joint statement by Russian and the US presidents, prepared for the G20 summit in Hamburg in July 2017. However – and I think you won't need a second try to guess this right – the Americans refrained from adopting such a document," she added.

"Washington showed that they don't want to make any commitments. Of course, it looks like a desire to reserve the right to interfere in the affairs of others," she added.

"The matter now lies with the American side."


Source URL