Israel systematically imprisons Palestinians on false or no charges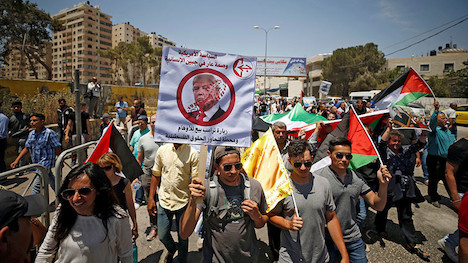 A Palestinian demonstrator holds an anti-U.S. President Donald Trump poster during a protest in support of Palestinian prisoners on hunger strike in Israeli jails, near Qalandiya checkpoint near the West Bank city of Ramallah May 22, 2017. © Reuters


People around the world are rightfully outraged by Donald Trump's recent effective handing over of Jerusalem to Israel.

Behind the scenes, out of sight, an outrageous and illegal practice continues, the alleged"only democracy in the Middle East" on a near-daily basis abducts Palestinian men, women, and children under false pretexts (or no charges at all), using sham legal proceedings to enforce prolonged, illegal, detentions.

According to October 2017 statistics by the Palestinian prisoner support group Addameer, Israel holds 6,198 Palestinians in prison (including 280 children and 58 women).

On October 27, Israeli forces abducted Ashraf Abu Rahme (36) from Bil'in, a village of around 2,000 people, just west of Ramallah. Abu Rahme's alleged crime? "Throwing stones."

Even were Israel's claims true, under international law, he could have been firing a gun at the occupying forces. The UN General Assembly resolution A/RES/37/43 of December 3, 1982, reaffirms:

"...the legitimacy of the struggle of peoples for independence, territorial integrity, national unity and liberation from colonial and foreign domination and foreign occupation by all available means, including armed struggle."

That said, all accounts put Abu Rahme as unarmed and not throwing stones. Bil'in resident Haitham al-Khatib was with Abu Rahme the day of his abduction. Al-Khatib wrote of walking with Abu Rahme and others in Bil'in's fields when the Israeli Army entered and handcuffed Abu Rahme. Khatib included a video of the incident.

On November 21, al-Khatib noted that Abu Rahme's already one month-long detention would be extended by another two months, with an additional fine of 5,000 shekels (over $1,400), adding: "He is a peaceful activist like me! Israel is trying to destroy my village's peaceful demonstrations!"

Protesting land theft
In 2005, Bil'in residents began creatively protesting the theft of 60 percent of their mostly-agricultural land, in part for the building of Israel's massive wall cutting through the occupied West Bank, known to many as the Apartheid Wall. Every Friday since then, Bil'in villagers, and outside supporters have marched on the land, protesting the blatant Israeli land-grab.

Having myself participated in many of these protests in 2007, I'm well aware of the brutality of the Israeli soldiers, who seem to treat the occasion as one of honing their sniping, crowd-control and abduction skills. Using live ammunition and metal bullets thinly-coated with rubber (benignly called "rubber" bullets), Israeli soldiers fire on unarmed protesters, young and old, and otherwise suffocate and injure by firing high-velocity tear gas canisters into crowds and directly at people, as I experienced.

But my experiences were only a glimpse.

In April 2009, Abu Rahme's brother, Bassam, was killed by one such tear gas canister, fired directly at his chest. In December 2010, his sister Jawaher died of cardiac arrest from tear gas inhalation.

Ashraf Abu Rahme has himself been shot point-blank (while blindfolded and handcuffed) by Israeli soldiers, and otherwise arrested over 50 times, according to his wife Rana, held "sometimes 6 months, sometimes two weeks."

Given that many seen as influential in the Bil'in protests have also been targeted with repeated arrests, it is clear that Israel's motivation in imprisoning Ashraf, and harassing he and his wife, is in seeking to bring about an end to these protests.

This is just one aspect of the farce that is the great Israeli "democracy."

Fake legal proceedings and family visits denied
The first month of Abu Rahme's imprisonment was spent under administrative detention, which even the UN Special Rapporteur on Palestine, Michael Lynk has addressed, saying:

"I am particularly concerned with Israel's use of administrative detention, which involves imprisonment without charge, trial, conviction or meaningful due process, as well as the possibility of unrestricted renewal of their detention," as noted in a May 2017, UN article.



The article also cited Lynk as "highlighting that administrative detainees are imprisoned on secret evidence that neither they nor their lawyers can review or challenge." Israel holds around 500 Palestinian prisoners in administrative detention, and many of the at least 6,000 Palestinian prisoners are held in prisons within Israel, in contravention of International Humanitarian Law, Lynk noted.

Robert Inlakesh, an Australian journalist, and activist who recently spent several months in Palestine, including substantial time in Bil'in before Abu Rahme's arrest, explained of the eventual trial:

"His court date was held back four times. Up until now his wife Rana has only seen him and spoken to him in court while he was shackled. He was given an Israeli lawyer, but Rana wasn't able to make contact anywhere except on the actual court dates with this lawyer who is defending Ashraf."



Special Rapporteur Lynk pointed out that holding Palestinian prisoners in prisons in Israel creates, "significant barriers to the families of prisoners who wish to visit them, due to the difficulty of obtaining permits to enter Israel, and the often arduous journey families must undertake to reach their relatives."

For Palestinians in Gaza under Israeli siege, visiting loved ones in Israeli prisons is nearly impossible. Addameer notes: "Palestinians wishing to visit their relatives detained in Israeli prisons must apply for a permit from the Israeli security services."

Guess how that works out...

In a recent interview on Sputnik, Inlakesh pointed out the Israelis' astounding 99.7 percent incarceration rate. Also on the interview, Scottish activist Mick Napier noted that a 99.7 percent conviction rate is "not a justice system, it's an industrial process of snatching Palestinians from homes, schools, and streets, and subjecting them to six months, or five years, or 22 years..."

Followup abductions in Bil'in
Those following Bil'in villagers' struggles to regain their land and end the constant Israeli invasions will be aware that Israel has not only targeted perceived leaders of the protests, but employed psychological warfare, with endless night invasions.

Some weeks following Ashraf Abu Rahme's abduction, in the early hours of November 20, Israeli forces and intelligence invaded anew. Haitham al-Khatib wrote that around 150 soldiers in 20 jeeps entered again in the middle of the night, raiding over 15 homes, and abducting Ahmad Abu Rahme (16) and Abdullah Abu Rahme (46).

Being ripped out of your sleep and home by the Israeli Army is a norm. In 2007, in a village under constant lockdown and invasion by the Israeli Army, I experienced these night raids. In darkness, Israeli soldiers fired flares in the street and at homes, tear gas, sound bombs, and of course live ammunition at and inside Palestinian homes. The psychological terror the village residents felt would have been immense, and endless. The day raids are equally brutal. One youth's spleen was destroyed by the bullet which narrowly missed his heart, as invading Israeli soldiers shot him outside his grandmother's home.

On December 10, Robert Inlakesh updated that 17-year-old Abdul Khaliq Bornat, Hamzah al-Khatib (17) and Malik Radhi (18), also from Bil'in, had just been abducted and imprisoned by Israeli forces. Of Bornat, Inlakesh wrote:

"They beat him and then brutally took him away. He is currently in his last year of school and wishes to study overseas for the university, this last year of school is his only option to achieve this..."



Solidarity with Abu Rahme, and Syria


Robert Inlakesh, who has remained in touch with Bil'in villagers and Abu Rahme's wife Rana, is trying to help raise money to pay for his release, since most Palestinians under occupation don't make the kind of ransom Israel is demanding.

"We decided it's best to make a fundraiser for him, because if he doesn't pay in time, he remains in prison."

He also noted that even after Abu Rahme is released, he'll be under the gun:

"He's on a five-year probation period. So if he even goes to a demonstration for five years, they can put him in prison for one and a half years."



There's another thing about Ashraf Abu Rahme which Israel definitely doesn't like: on more than one occasion at the weekly Friday protests in Bil'in, Abu Rahme has raised the Syrian flag, in solidarity with a country whose land Israel illegally occupies and fires upon. Israel, known to be treating Al-Qaeda and other extremists in Israeli hospitals, and Israel which has self-professedly dozens of times attacked Syria, certainly doesn't want Syria's southern kin to stand in solidarity.

One day before he was abducted, Ashraf Abu Rahme messaged me on Facebook, sending me a video about the health benefits of garlic, of which he knows I'm fond. I mention this because this is the kind of person he is: gentle, thoughtful, playful, yet brave, so brave, a bravery most of us will never know.



It ain't just Trump: US history of supporting "Israeli" Jerusalem project


Many are surprised by Trump's Jerusalem move.

Indeed, former US president Barack Obama, in a June 2008 speech stated: "Jerusalem will remain the capital of Israel, and it must remain undivided."

In 1995, the US Senate passed an act, "To provide for the relocation of the United States Embassy in Israel to Jerusalem, and for other purposes."

As to the notion that Trump's move will affect peace negotiations, what needs to be recognized is that there hasn't ever been fair peace negotiations. Were the "two-state solution" to be enforced, Palestinians would forever live in Bantustans, all borders controlled by Israel, with only a fraction of their historic land.

Meanwhile, daily less-noticed crimes against Palestinians continue, including Israel's continued expansion of illegal Jewish colonies, its imprisonment of Palestinians, and its war crimes.

With the inaction of the United Nations to seriously hold Israel accountable for its decades of breaches of international law, and with America's handing over of more Palestinian land to Israel, it is time for a paradigm shift, and time finally for a just peace for a people robbed of their land, expelled, murdered and imprisoned.


Eva Bartlett is a Canadian freelance journalist and rights activist with extensive experience in the Gaza Strip and Syria.




Source URL