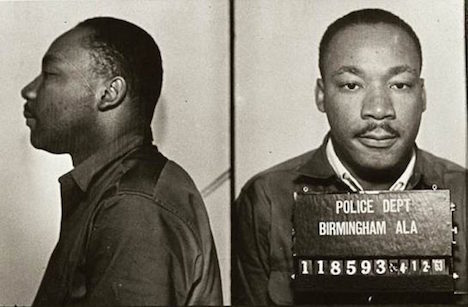 Mug shots of Martin Luther King Jr. following his 1963 arrest in Birmingham, Ala., for protesting the treatment of blacks. (Wikimedia)
We are now experiencing the coming to the surface of a triple prong sickness … [that] has been lurking within our body politic from its very beginning … the sickness of racism, excessive materialism and militarism. … the plague of western civilization.

—Martin Luther King, Aug. 31, 1967

We kill the most beautiful among us—anyone, it seems, who reveals the nastier, brutish elements of American society and has the audacity to imagine, demand even, a better path: peace, unity and tolerance. Abraham Lincoln, Bobby Kennedy, Martin Luther King and so many others.

This year marks the 50th anniversary of King's tragic assassination, and though countless publications will brim with commemorations and retrospectives of this misunderstood icon, most will miss the mark. Long ago co-opted and sanitized by mainstream political figures, the King of memory bears little resemblance to the radical, complex man himself.

He's remembered by Democrats and Republicans alike as the "good," "peaceful" civil rights leader—a useful foil for the "bad" activists of the black power movement, the Stokely Carmichaels, Malcolm Xs and Huey Newtons of the world. In reality, the categories were never so neat, the commonalities staggering.

In a sense, we all—white and black, liberal and conservative—have our own King. My King is the provocative King, the critic of bigotry but also of capitalism and the Vietnam War. The King, in truth, who has been willfully concealed from view.

When I arrived at the American history department at West Point in 2014, I—a white, heterosexual, military man—was handed the portfolio and teaching load on civil rights. Everyone else, it seemed, studied the American Revolution or the Civil War, and, well, I came across as vaguely progressive and willing, at least compared with my peers. A former student of counterinsurgency operations in Northern Ireland, I decided to ditch the old scholarship and embrace my new role. I've never looked back. I taught classes and led an annual summer excursion for cadets to visit with movement veterans across the South. I, along with two academy law professors, faced an immediate challenge: the cadets'—and most Americans'—utter misunderstanding of the civil rights movement and Martin Luther King himself.

After 50 years, with the United States again locked in racial conflict, culture wars, gaping inequality and perpetual global war, now seems as good a time as any to take stock of the state of King's "three evils": racism, materialism and militarism.



America's Original Sin: Race and Privilege


The cry of "Black Power" is, at bottom, a reaction to the reluctance of white power to make the kind of changes necessary to make justice a reality for the Negro. I think that we've got to see that a riot is the language of the unheard. And what is it that America has failed to hear? It has failed to hear … the economic plight of the Negro poor.


They are all linked, by the way. To treat each challenge as discrete is to rob them of their intertwined, inescapable power. Racism is a no-brainer. We've not come as far as we like to believe. Sure, there's been the Brown v. Board ruling, Civil and Voting Rights Acts, even a black president. Nevertheless, each of these historic victories is being rolled back before our eyes. Schools are again as segregated as they've been in two generations. Conservative courts have dismantled key provisions of the Voting Rights Act. Heck, Jefferson Beauregard Sessions—a man too racist to serve as a federal district judge in the 1980s—heads the Justice Department.

Race and empire are intimately connected. Look only to the unprecedented militarization of the nation's police—decked out in camo fatigues and sporting the same armored vehicles we drove in Baghdad—and the never-ending catalog of racially charged brutality cases nationwide for evidence. America resembles two armed camps, physically and intellectually isolated from each other. Five decades into an unwinnable and racially biased war on drugs, black men still fill the prisons in this nation—which has by far the highest rate of incarceration worldwide. In 2018 in the U.S., a black male is nine times as likely to serve time as a citizen of the next worst country: Cuba. We've got a long way to go.



The Unspoken King: Anti-Capitalism and Counter-Materialism


The problems of racial injustice and economic injustice cannot be solved without a radical redistribution of political and economic power.

The evils of capitalism are as real as the evils of militarism and evils of racism.


We inhabit a peculiar moment, when most Americans hardly look up from their smartphones long enough to realize they're missing "Real Housewives." The vacuous world of celebrity worship and material preoccupation does not lend itself to the impassioned activism King demanded. Unfettered, free-market capitalism—enabled by neoliberal Democrats like the Clintons—has gutted the American dream and rendered it an unattainable nightmare for many. The empirical evidence is staggering.

Income inequality in the (ostensibly) egalitarian United States has reached its worst levels since the Gilded Age. Wages for the working class have been stagnant for 40 years, while the superrich bask in an embarrassment of riches. The federal minimum wage is worth less in real dollars than it was 50 years ago.

Yet it's all so much worse than that. Obsessive materialism and big money (think pharma, oil, fracking) in politics have set American culture in the express lane to existential disaster. Most of us live a delusion, wishing away the gathering storm of global warming while chasing immediate gratification from social media clicks. Soon after President Trump pulled the U.S. out of the Paris climate accord, Syria finally joined up, making America the true, lone international pariah. Really doubling down, Trump's recently released National Security Strategy completely removed climate change from the Pentagon's list of threats. I'm sure King would approve.

The Greatest Purveyor of Violence: U.S. Militarism, 50 Years On
A nation that continues year after year to spend more money on military defense than on programs of social uplift is approaching spiritual death.

I knew that I could never again raise my voice against the violence of the oppressed in the ghettos without having first spoken clearly to the greatest purveyor of violence in the world today: my own government.


One could plausibly argue that the United States remains a prominent purveyor of death, or at least chaos, across much of the planet today. It is this—the third of King's evils—with which I am myself most familiar. Alas, in 2018, American militarism is alive and well, ranging from the symbolic martial pageantry pervading the National Football League to an ongoing, expanding and genuinely global war. Thanks to painstaking research at Brown University, we now know the U.S. military is conducting counterterror operations—all undeclared wars—in 76 countries. The bill so far? Some 7,000 dead American soldiers (eight of my own), 1.3 million war-related Arab/Muslim deaths, 10 million refugees and $5.6 trillion dollars. For this, we've gotten 30 times more worldwide terror attacks than occurred in 2001. What a steal.

Taking further stock of the state of U.S. militarism requires a macabre tour of direct and sponsored operations across the greater Middle East. In Yemen, the United States is complicit in Saudi terror bombing—providing munitions and in-flight refueling—that is causing famine and a world-record cholera epidemic in the Arab world's poorest nation. In Syria and Iraq, the (perhaps justifiable) campaign against Islamic State resulted in far more civilian deaths than originally reported. Ceaseless backing of the far-right Israeli government has helped facilitate an incessant state of siege of Palestinians in the Gaza Strip. The U.S. also backs dictators, kings or strongmen with abhorrent human rights records far and wide across the region, from Egypt to Saudi Arabia. Sure, they're crooks, sure, they gun down protesters, sure they behead women for "sorcery," but hey, at least they're our crooks.

The point is as simple as it is disturbing: While there are many "purveyors of violence" in the world today, the United States is far from innocent. Militarism is alive, well and growing in our increasingly martial culture. In King's time, young Vietnamese girls burned in napalm strikes signified this mindset. Today, perhaps the consummate image is a starving Yemeni child.

Appropriating the Dead: Willfully Misremembering King
In America, in the fifties and sixties, one of the important crises we faced was racial discrimination. The man whose words and deeds in that crisis stirred our nation to the very depths of its soul was Dr. Martin Luther King, Jr.

—President Ronald Reagan, 1983
When a Hollywood performer [Reagan], lacking distinction even as an actor can become a leading war hawk candidate for the presidency, only the irrationalities induced by a war psychosis can explain such a melancholy turn of events.


That neoliberal and neoconservative voices—along with mainstream figures in both parties—annually pay dutiful homage to King, without uttering a word about materialism or militarism, is a national disgrace. That former President Reagan, hero of the contemporary right, would publicly praise him, borders on the absurd. Lest we forget, Reagan, after all, made the first stop on his general election campaign in Neshoba County, Miss.—praising "states' rights" in the city where three civil rights workers were famously murdered in 1964. He also initially opposed the bill officially designating Martin Luther King Day. Refusing to deny that King was a "communist," Reagan would only say, "We'll only know in about 35 years, won't we?" And by the way, there are still four sitting (Republican) senators who voted against the MLK holiday: Richard Shelby of Alabama (no surprise there), Chuck Grassley of Iowa, Orrin (There's No Blacks in Utah) Hatch and (disturbingly) John McCain of Arizona.

Every year, we're treated to the same hypocrisy. Mainstream figures in both parties—some who vote for massive tax breaks for the rich, nearly all who support America's endless wars—publicly laud and then invoke the ghost of King. None lays out a 21st century plan to implement MLK's still incomplete vision. They have no such plan. They were bought and sold by corporate elites and the military-industrial complex long ago. On the right, some even engage in the fantasy that King was actually a Republican. He wasn't. Truth be told, King would fit into neither of the two parties today. His platform and favored issues hardly receive public airing anywhere but the fringe left. Nonetheless, both Democrats and Republicans invoke King's ghost every January for petty political gain. It's heinous.

Republicans especially, but also centrist liberals, want us to believe King was one thing only: a narrow, nonviolent civil rights activist. That he gave only one speech: about a dream of his black daughters attending school with young white girls. They've sanitized him, castrated his message, omitted (through strikingly Orwellian "new speak") his uncomfortable quotes. They've done so with nefarious intentions and political agenda: convince the masses that King's revolution is over, completed, final. Stop complaining, stay out of the streets, there's no reason to protest. Be thankful for what you have.




Don't fall for it. Read, study, unearth the real King, the radical King, and take up the torch of his fight—a dream deferred—against the three evils still alive and well in the United States: racism, materialism and militarism. The owners of this country are counting on your apathy. Prove them wrong.


Source URL