Kachin leader N Ban La tells Asia Times that his army's ties with China have improved markedly since joining a Beijing-backed alliance of ethnic insurgents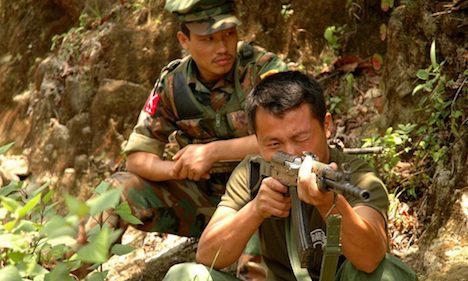 Rebel soldiers of the Kachin Independence Army (KIA) manning rifles on a supply route from Laiza, a KIA-controlled stronghold in Myanmar's northern Kachin state on the border with China. Photo: AFP/Patrick Bodenham


One of Myanmar's strongest and most powerful ethnic armies has a new leader, one more aligned with China and apparently less keen to win sympathy from the West for his group's long armed struggle for autonomy in a federal union.

In January, the Kachin Independence Organization (KIO), the political wing of the Kachin Independence Army (KIA), elected General N Ban La, 70, as its new chairman. The KIA is now engaged in intense fighting with the Myanmar military in the country's northern region bordering with China.

Under N Ban La's leadership, the Kachin rebel movement has moved to forge an alliance with the United Wa State Army (UWSA), the country's largest armed militia which maintains close ties to Chinese security forces.

Last year, the KIA joined the Federal Political Negotiating and Consultative Committee (FPNCC), an alliance led by the UWSA that also includes armies from the Shan, Kokang Chinese, Ta'ang (Palaung) and Arakanese ethnic minorities, as well as a group in easternmost Shan state comprised of a mixture of peoples.

The FPNCC represents 80% of all armed rebels in the country, and with China's apparent backing, Beijing has emerged as a main – some would argue sole – interlocutor in the conflict between Myanmar authorities and ethnic armies. The "first chairman" of the FPNCC is the UWSA leader Bao Youxiang, with N Ban La serving as its "second chairman", a position he assumed before becoming the KIA's new chairman.

In an exclusive interview with Asia Times, N Ban La said Kachin relations with China have become a lot easier since the KIA joined the Wa-led coalition: "Our people can now travel more freely in and out of China," he said.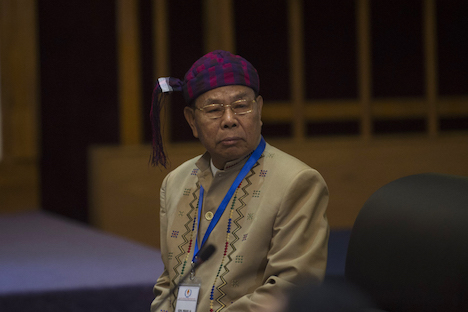 General N Ban La at a peace process meeting in Yangon on July 17, 2016. Photo: AFP/Ye Aung Thu


There are even indications that China might allow the internally displaced person (IDP) camps inside KIA-controlled areas – where tens of thousands of civilians who have fled recent fighting now languish – to receive supplies of food and medicines from the Chinese side of the border. Until now, cross-border shipments have been severely restricted.

The Myanmar government and military are now blocking international agencies from providing any humanitarian support to the camps. At the same time, other sources assert that Chinese security agents have told the Kachins not to engage with the West – or India and Japan, with whom N Ban La's predecessors aimed to maintain friendly contacts.

The sticking point for the Kachins, as with most of Myanmar's other ethnic armies, is a "Nationwide Ceasefire Agreement" (NCA) promoted first by former President Thein Sein and also pursued by Aung San Suu Kyi's elected government as a precondition for political talks towards autonomy.

Announced in October 2015, only three of the eight original signatories have armed forces – namely the Karen National Union (KNU), the Democratic Karen Buddhist Army (DKBA) and the Restoration Council of Shan State (RCSS) – with the other five more akin to nongovernmental organizations (NGOs).

On January 23, the government proudly announced as a sign of progress that two more groups, the New Mon State Party (NMSP) and the Lahu Democratic Union (LDU), agreed to sign the NCA. The NMSP has an army and territory that it controls, while the LDU has neither and is more aptly described as a Thailand-based NGO.

Most ethnic armed groups view the NCA as tantamount to surrender, as the Myanmar military has long demanded that groups disarm before any talks or negotiations are held. The military has also pledged to uphold the country's 2008 Constitution, which does not enshrine the amount of local autonomy that most ethnic armed groups demand.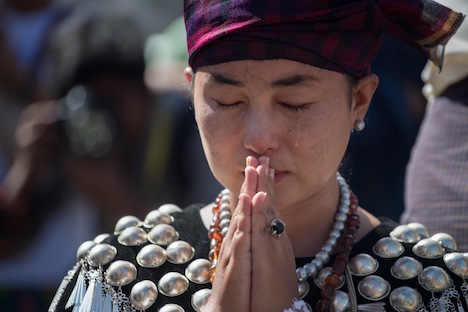 A woman wearing traditional dress from Kachin state in Myanmar sheds a tear while praying outside St. Mary's Cathedral during a mass led by Pope Francis in Yangon on November 30, 2017. Photo: AFP


The predominantly Christian KIA had tried for several years to gain support from the West for its demand that political talks be held before any binding agreement is signed with the government and military.

In April 2014, more than a year before the NCA was first announced, prominent KIA leader General Gun Maw even traveled to Washington to meet with senior State Department officials.

Nothing substantial came of those talks and the Western donor community – which has recently poured millions of dollars into Myanmar's faltering peace process – continued to press the Kachins into signing the NCA.

Gun Maw, who had enjoyed almost rock-star status, especially among Kachin youth, was later transferred in early 2016 from his position as vice chief of staff of the KIA to become vice chairman of the Kachin Independence Council (KIC), the less powerful administrative wing of the Kachin rebel movement.

The KIA is more firmly entrenched in Kachin civil society than other insurgent armies are in their respective ethnic communities. Important decisions cannot be taken without first consulting civil society organizations, and the most powerful entity among the Kachins is the Kachin Baptist Convention (KBC).

In September 2015, before the NCA was announced, the KBC issued a statement urging the KIA not to sign without political guarantees. The KBC also said that, in present circumstances, it "opposes disarming."

As the most influential civil society organization among the Kachins, the KBC did not want the KIA to repeat the same mistake of agreeing to a ceasefire, as it did in 1994, without a firm government commitment and timetable for political talks.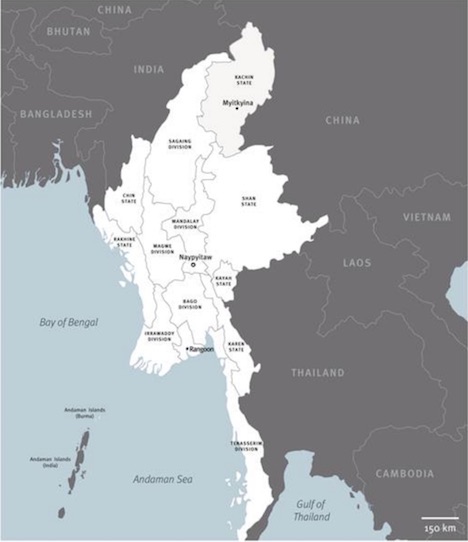 Map of Myanmar in geographical context. Source: Human Rights Watch


That agreement ended in mid-2011 after the Tatmadaw launched unilateral attacks on KIA positions near the Chinese border and elsewhere in Kachin state and Kachin-inhabited areas of northern Shan state.

N Ban La conceded that the Chinese are still somewhat apprehensive about the Kachin's ties with Christian churches and other religious, civil and political organizations in the West. But the KIA's decision to join the FPNCC have apparently eased some of Beijing's concerns.

The other six members of the alliance have never had such strong foreign contacts, which likely explains why the UWSA has shared its Chinese-supplied weaponry with other ethnic armies but until now not the KIA. Weaponry transfers cannot take place without the tacit approval of China's security services, analysts say, and it remains to be seen if the KIA will be allowed to receive arms via the UWSA.

It all depends on N Ban La, who is widely viewed as a new type of Kachin leader. The former KIO chairman, Zawng Hra, who resigned for health reasons, is a university graduate who once served as a government officer in Sumprabum, Kachin state.

Another former KIO chairman, the late Brang Seng, also had a university degree and was Myanmar's delegate to the YMCA in Singapore before he became headmaster of Myitkyina Baptist School. By contrast, N Ban La has only six years of primary schooling and became a KIA soldier in his mid-teens, meaning his background is entirely in the Kachin military.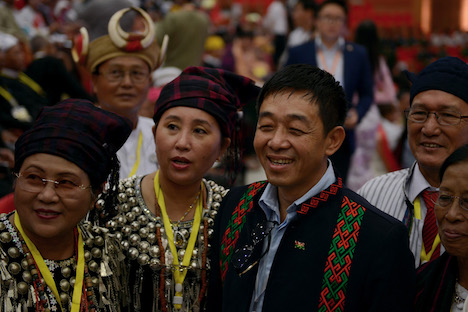 Former Kachin rebel leader General Gun Maw (3R) with Kachin ethnic women wearing traditional costumes at a conference held in Naypyidaw. Photo: AFP/Romeo Gacad


Not surprisingly, the alliance with the UWSA is not popular with everyone in Kachin state.

N Ban La admits that many Kachins are apprehensive of the fact that several UWSA leaders have been indicted by US courts for their involvement in the Golden Triangle's illegal drug trade. "Some people fear that we will be tainted by our association with the Wa," acknowledged N Ban La.

Those concerns are well-founded. Wei Xuegang, an ethnic Chinese who also goes by the Myanmar name Sein Win, is apparently the main person in the FPNCC with whom China's security services deal with. He is also a wanted man in the US as well as in Thailand as an alleged drug trade kingpin.

There is also a Christian component. The UWSA has its roots in the Communist Party of Burma; all Wa leaders were once military commanders in its rebel army where Marxist-Leninist ideology rather than religious beliefs was the guiding philosophy. Today's UWSA is not a communist organization, but it has retained the old, authoritarian leadership style with all its trappings.

Over the past few months, heavy fighting has raged in northern Myanmar and many Kachins appear to believe that there is no choice but to appeal for support from the UWSA to counter the Tatmadaw's onslaught. Many Kachins feel abandoned by the West and China has become the only viable foreign power to which they can turn.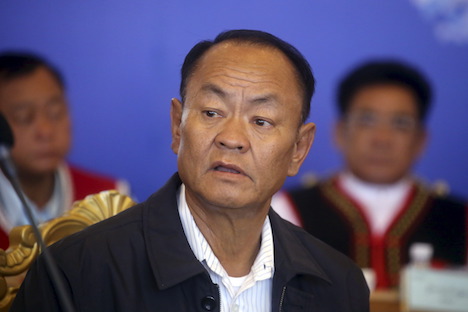 United Wa State Army leader Bao Youxiang in a May 2015 file photo. Reuters/Stringer


But it is still far from certain that China is interested in any "final solution" to Myanmar's ethnic conflicts through the establishment of the federal union many ethnic groups envisage.

N Ban La concedes that China has many other interests in Myanmar, including the ongoing deep-sea port project at Kyaukphyu on the Bay of Bengal, pipelines for oil and gas that run from Myanmar's west coast to the southwestern Chinese province of Yunnan, and a general hold over a nation that strategically straddles South and Southeast Asia.

The Chinese can enhance those interests by playing the "ethnic card" to show the Myanmar government and military that only they, and no other outsiders, can handle and influence the long-running armed conflict's various non-state actors.

Some analysts believe that the longer that conflict remains unresolved, the better it is for China. An explosive war is not in China's interests, as it would create instability on its southern flank and inevitably lead to an unwelcome influx of refugees. But a "strategic stalemate" that lasts for several years, with China as the sole interlocutor, would serve Beijing's various long-term schemes in Myanmar, the analysts say.

Recent reshuffles within the Kachin movement's leadership and N Ban La's engagement with the FNPCC is likely exactly what China wants. While the EU, Norway, Switzerland and others have committed large sums of money on peace-inspired initiatives, the KIA's shift shows again that the West has been outmaneuvered by China in Myanmar.




Source URL