Ex-top brass appeal to new King Vajiralongkorn to bless building the long-envisioned Kra canal; China is keen to start digging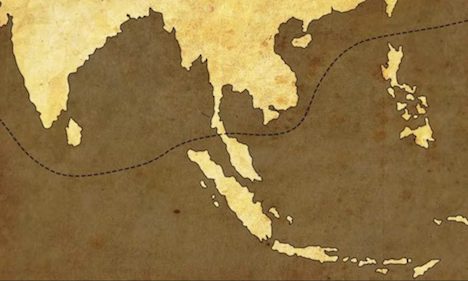 A map of the potential new East-West shipping route that would be opened by a potential Thai canal through the country's Kra isthmus. Image: Wikimedia


General Saiyud Kerdphol, the military engineer of Thailand's winning Cold War-era anticommunism campaign, believes now is the time to build the Kra canal – a long-envisioned channel through the country's southern isthmus that would connect the Indian and Pacific Oceans and dramatically shorten East-West shipping routes.

And for the massive infrastructure undertaking to finally break ground after centuries of pondering, the nonagenarian former supreme commander believes the monumental decision cannot be taken by any government and thus must be conceived and graced as "the king's canal."

"This cannot be done if it's not the king's project," says Saiyud, who in an interview with Asia Times recalls meeting with the previous monarch in the 1980s when British motor company Rolls-Royce briefly had interest in the canal. "The government will never be firm enough to make a decision because they know they can't control corruption."

To be sure, Thailand is no closer to digging the Kra canal today than when it was first considered by King Narai in 1677. The scheme has been resurrected in various forms several times since, only to founder on political rocks and security concerns, including existential trepidation of physically dividing the nation in two.

The incumbent ruling junta, while grasping for new economic transformation strategies, has shown no interest in the canal. That's due to perceived security risks in sight of a raging separatist Muslim insurgency in the kingdom's southern reaches and the likely criticism that would arise from taking such a big decision as an unelected government.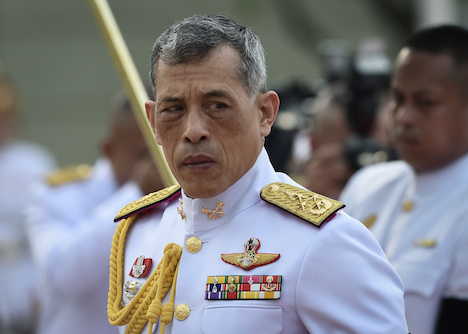 Thailand's King Vajiralongkorn is seen paying respects at the statue of King Rama I after signing the military-backed constitution in Bangkok on April 6, 2017. Thailand's king signed a new military-backed constitution on April 6 that strengthens the army's hand in government and puts the country on the path to polls after three years of junta rule. / AFP PHOTO / Lillian SUWANRUMPHA Thailand's King Vajiralongkorn paying respects at the statue of King Rama I on April 6, 2017. Photo: AFP/Lillian Suwanrumpha


But with the recent transition from deceased King Bhumibol Adulyadej to King Maha Vajiralongkorn, now known as Rama X, the canal's ex-top brass backers hope the new monarch with a military background will give the scheme royal consideration, in the name of national peace and development.

Saiyud suggests the canal could herald "a new era of civilization" during Vajiralongkorn's reign and bring peace through hearts-and-minds development to the conflict-ridden Deep South. The new king has taken special interest in the Muslim majority region, leading some to wonder if he may prioritize achieving peace in the region as part of his legacy.

It's not altogether clear if the previous king shared concerns about physically dividing the kingdom, though staunch royalists note the canal would necessarily be wider than the Chao Phraya River, the nation's main north-south waterway that travels through Bangkok and by the royal Grand Palace, viewed by many as the spiritual heart of the nation.

The Thai Canal Association (TCA), a group of influential former top brass soldiers advocating for the project, recently rechristened the canal from "Kra" to "Thai" to indicate it would be built for all Thais, in line with Bhumibol's view that the decision should be made by the people.

TCA points to a recent local Songkhla University poll that apparently showed 74% of residents in 14 southern provinces agreed with building the canal.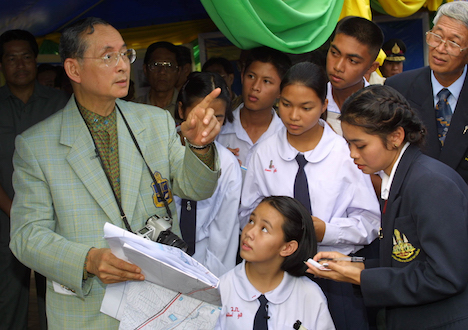 Students of Klai Kang Won School, Hua Hin, listen attentively to His Majesty the King who brief them on the importance of soil and water during a visit to the Khao Tao reservoir in Prachuap Khiri Khan. The reservoir is a royal project aimed at lifting the quality of life of the people. BANGKOK POST PHOTO/Tawatchai Kemgumnerd Former King Bhumibol Adulyadej speaks to students during a visit to the Khao Tao reservoir in southern Prachuap Khiri Khan province. Photo: Bangkok Post via AFP/Tawatchai Kemgumnerd


The project's skeptics, on the other hand, believe the latest drive-to-build aims ultimately to win rich feasibility study contracts "for the boys", with scant prospects of actually implementing any proposed grand plan. The canal would cost anywhere between US$20-US$30 billion depending on the chosen rose, and likely take a decade to dig.

While it's unclear if any formal representations have been made to the monarch, the canal does have one rich and powerful new backer: China.

Beijing's newly appointed ambassador to Bangkok, Lyu Jian, has said in recent high-level meetings that China envisions the Thai canal as part of its US$1 trillion 'One Belt One Road' (Obor) global infrastructure initiative, according to Thai government officials and advisors briefed on the discussions.

While China aims to link the initiative with the junta's Eastern Economic Corridor industrial, logistical and real estate development plan, including via a long-stalled high-speed rail line connecting the two nations via Laos that broke symbolic ground in December, it is apparently the first-time Beijing has actively promoted the canal as part of the Obor program.

Until now, Beijing has publicly distanced itself from private Chinese companies which have engaged Thai trade groups to probe the project's potential. That includes a memorandum of understanding entered by the China-Thailand Kra Infrastructure and Development Company and Asia Union Group to study the canal signed in Guangzhou in May 2015.

China's Embassy in Bangkok did not respond to Asia Times' written request for its current official position on the canal.


A map of current and possible future shipping routes. Source: Pakdee Tanapura


If China is involved, past financial and engineering obstacles – a previous consortium toyed with the notion of using nuclear explosions to excavate the channel – are likely no longer stumbling blocks, according to Pakdee Tanapura, a long-time advocate for building the canal and ranking TCA member.

Pakdee said Longhao Co Ltd, a Chinese construction company involved in recent land reclamation and island-building in the South China Sea, has expressed interest in the canal. Its plan would entail the construction of two man-made islands for facilities on either side of the canal's entry points in Gulf of Thailand and Andaman Sea, according to Pakdee.

Other Hong Kong and Macau-based construction firms have also expressed interest in meetings with known palace emissaries, according to a diplomat monitoring the security dimensions of the canal. Beijing has put Hong Kong and Macau companies forward due to their global experience and comparatively polished executives, the envoy says.

The canal would save approximately 1,200 kilometers from current East-West shipping routes that currently must travel through the congested Malacca Strait, the world's busiest maritime area where an estimated 84,000 ships and around 30% of global trade currently passes each year.

The World Bank has projected that volume could increase to over 140,000 per year in the next decade, while the narrow strait currently has the capacity to handle 122,000 ships. Much of that transport passes by or stops over for supplies and fuel in Singapore, the wealthy city-state that would seemingly have the most to lose from an alternative East-West shipping route.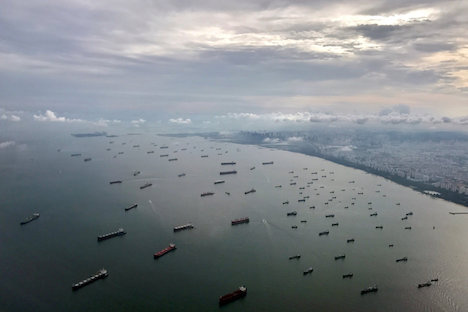 Aerial view of ships along the coast in Singapore July 9, 2017. Reuters/Jorge Silva


Jinsong Zhao, a maritime expert at state-led Shanghai Jiao Tong University, suggests the canal could put Thailand at the center of a "third revolution" of fast-transport global trade, where e-commerce driven sales require ever quicker door-to-door delivery of goods that is limited in the region due to the long shipping route through the Malacca Strait.

"To my Thai friends: Don't waste your time, don't delay this project," Jinsong implored at a conference on the canal held last September in Bangkok. "We have technology, we have capacity, we have money, we are happy to help. It's good for Thailand, Asia and the whole world." He said if Thailand waited another 20 years, it would be "fatal" to winning China's support.

That may or may not be true. As much as 80% of China's fuel imports currently pass through the Malacca Strait, a maritime bottleneck running between Malaysia and Indonesia that strategic analysts say the US Navy could readily block in any conflict scenario by leveraging its strategic access to nearby Singapore.

Beijing's interest in a Thai canal comes amid uncertainty at Obor-invested ports envisioned – at least in part – as strategic hedges to its Malacca vulnerability, including facilities in Sri Lanka, Pakistan and Myanmar's now violence-wracked western Rakhine state, through which China has built oil and gas pipelines to fuel its landlocked southern hinterlands.

If built, the Thai canal would necessarily shift Asia's maritime strategic dynamics by bypassing Malacca, one of the US' chief strategic advantages vis-à-vis China at sea. One US official who communicated with Asia Times was skeptical the canal would be built any time soon, even with China's apparent interest and potential financial support.

Another independent analyst with a US military background in the region and aware of the Pentagon's recent strategic thinking said that even if the Thai canal was built, it would merely mean that the US Navy would have two strategic chokepoints, rather than just one, to block in a potential conflict with China.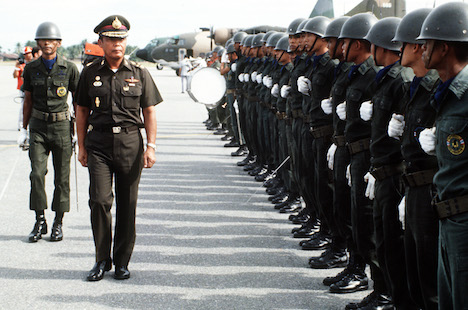 General Saiyud Kerdphol, Supreme Commander of the Royal Thai Armed Forces, reviews the troops at the opening ceremony for Operation MITRAPAB (Thai word for friendship), an annual parachute demonstration conducted by the Thai military and the Joint United States Military Advisory Group (JUSMAG). Proceeds from the event are used to build schools in Thailand. General Saiyud Kerdphol (L) reviews troops as Supreme Commander of the Royal Thai Armed Forces in 1983. Photo: Wikimedia Commons


Saiyud says he believes the US, which showed interest in the canal in an era when China was a minor maritime player, could ultimately support the canal for the logistical benefits to regional trade and as a long-time ally committed to Thailand's economic development and prosperity. Thai-US bilateral relations have waned, however, under junta rule.

While fully engaged with Beijing, the canal's Thai advocates are also keen to build a multinational coalition of backers and funders to prevent any one country, namely China, from having inordinate leverage over the channel and its related port facilities. "It must be a Thai company to lead and not look too Chinese," says military statesman Saiyud.

Other advocates point to the recent multilateral funding for expansion of the Panama Canal, with support from Germany, Spain, South Korea, US, Argentina and Mexico, among others, as a financial model. They note the project would require new airports, communication networks and other modern infrastructure that would allow several nations to participate.

If built, the Thai canal would necessarily shift Asia's maritime strategic dynamics by bypassing Malacca, one of the US' chief strategic advantages vis-à-vis China at sea
That's sparked certain multinational interest. Last September's TCA-organized conference held in Bangkok was supported by the European Association for Business and Commerce and sponsored by Hong Kong construction company Grand Dragon. A follow-up event on February 1 in Phuket will be staged in collaboration with the Thailand chambers of commerce of Australia, France, Germany, Netherlands and US.

Finance Minister Somkid Jatusripitak was scheduled to make opening remarks at last September's canal event, but was held back at the last minute by the Prime Minister. As the junta's political troubles mount and with an uncertain democratic transition on the horizon, such a monumental undertaking isn't likely to win government support any time soon.

"We're no closer today [to building the canal] than we were 340 years ago," said General Pongthep Thesprateep, TCA's chairman and secretary general of top royal advisor Prem Tinsulanonda's Statesman Foundation, in an interview with Asia Times. "But for the people and the country, it's a good time to start."


Source URL