"The solitude with which the opposition candidate (Radonski) is moving about the country, unaccompanied by any of the opposition heavyweights, by no other opposition organizations, is telling of how sectarian his political positioning truly is."
- Jose Vicente Rangel,
Investigative journalist

Opposition lawmaker ostracized for
critique of "hidden economic agenda"

Opposition congressman, William Ojeda reveals Capriles Radonski's hidden agenda bearing Radonski's signature. The neoliberal economic plan contradicts the candidate's campaign message to the public.

With just weeks to go before the 2012 presidential election, Venezuela's anti-Chavez coalition suspending one of its members for having openly questioned the "secret" economic platform of right-wing candidate Henrique Capriles Radonski. The decision to oust opposition lawmaker William Ojeda, who described the Capriles platform as "a neoliberal nightmare", came almost immediately after he proposed an "open debate" on the Democratic Unity Roundtable's (MUD) economic agenda.

In what began as a simple call for "reflection" late last week, the fallout over public statements made by opposition legislator William Ojeda have demonstrated the degree of secrecy and intolerance that reigns among opposition forces. In the words of Noticias24, the "hurricane unleashed by William Ojeda" forced open the "hidden economic agenda" of the MUD coalition and its presidential hopeful, Henrique Capriles Radonski.

David de Lima, former opposition governor of Anzoátegui State, first revealed Radonski's hidden agenda. Photo: Aporrea

On Thursday, September 6, Ojeda held a press conference outside his National Assembly office in which he told reporters "Venezuelans deserve" an "open debate" over a recently-exposed internal MUD document detailing the coalition's economic agenda in a post- Chavez Venezuela. First brought to light by former opposition governor David de Lima, the document titled Initial Economic Ideas and Actions to be Carried Out by the National Unity Government (2013), includes a series of radical neoliberal reforms that directly contradict Capriles' campaign messaging.

According to de Lima, who released the MUD document last month, he did so because "its contents are unfair to the poor and humble majority".

"It proposes a separation between Petroleos de Venezuela (Pdvsa) and the state, granting it 'autonomy', and it also proposes an end to housing subsidies, food subsidies, as well as subsidies for the Social Security System".

Though William Ojeda is a recognized figure within opposition party Un Nuevo Tiempo (UNT), his public statements backing de Lima's concerns resulted in his immediate suspension from the party. Within hours of his critiques, UNT spokesmen held a press conference denouncing their "former comrade" and suspending him for his critique of the Capriles agenda.

Responding to the UNT decision, Ojeda said he was "saddened" by what was "one of the briefest political summary judgments in republican history".

"Within an hour I was both judged and condemned", he said.

Insisting the decision resulted from "external pressures being placed on the party", Ojeda "thanked" those within the opposition who responded with what he called "messages of empathy".

Speaking to reporters on Sunday, Ojeda reiterated his "original call for an open debate" on the MUD's "hidden economic agenda" which he said goes against the "Venezuelan people's best interests".

"Let's open up the discussion", he said, "let's have an open, ample debate without any hindrances. Let the (Capriles) economic program be discussed; let each one of the steps outlined in the platform be debated so as to get feedback from all of Venezuelan society".

According to Ojeda, he is one of many within the Venezuelan opposition who understand that "neoliberal agendas are nothing more than out-of-date economic nightmares, proven to depend on inefficient mechanisms – mechanisms that have shown their perversion and have been defeated by history".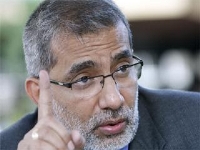 Victor Alvarez, Economist

Venezuelan economist Victor Alvarez, who studied the controversial text, said the real MUD economic agenda proposes:
"a Venezuela in which those who have the resources to pay for health and education do so. Those who do not have the means to buy healthcare or pay for education will simply be excluded from both".
Internal Unrest
According to former opposition governor David de Lima, "disgruntled" members of the MUD coalition provided him an original copy of the aforementioned document, signed by Capriles himself, and did so because they "feel deceived" by the opposition candidate.
"They are upset", explained de Lima, "upset that they are not being consulted, that they're being marginalized, that they're invited to meetings as simple placeholders".
"Now that Capriles is the presidential candidate he is mistreating his allies, leaving them on the wayside", he said.
Speaking to thousands of supporters in the state of Miranda on Sunday, President Hugo Chavez explained that Capriles and his Primero Justicia (PJ) Party "are working to build themselves up as the 'new' opposition, looking to destroy the political strength held within the opposition by AD (Democratic Action), Copei (Social Christian Democrats), and other smaller parties".
Jose Vicente Rangel, Investigative journalist
According to Investigative journalist Jose Vicente Rangel, "as the presidential election approaches, and the pending defeat of the opposition becomes more and more evident, new conflicts (within the opposition) are sure to arise".
Rangel continued,
"The solitude with which the opposition candidate (Radonski) is moving about the country, unaccompanied by any of the opposition heavyweights, by no other opposition organizations, is telling of how sectarian his political positioning truly is."

"I am not surprised by what is now happening within the MUD. And I would not be surprised if after William Ojeda, new desertions occur.

"The opposition has always shown frailty because it's a mixture of different factors: people from the right, the left, the extreme right, a pool of people with very different political thinking."
Deny and Conquer

Too hot to handle: MUD Executive Secretary Ramon Guillermo Aveledo (L) and opposition presidential candidate, Capriles Radonski (R), are trying to deny the authenticity of Initial Economic Ideas and Actions to be Carried Out by the National Unity Government (2013), bearing Radonski's signature, calling it a fake document produced by the Chavez Campaign


Aware that most Venezuelans firmly reject the free-market economics that brought the country to ruin during the Fourth Republic (1958-1998), MUD Executive Secretary Ramon Guillermo Aveledo and opposition presidential hopeful Henrique Capriles have distanced themselves from the controversial document. Both men affirm it is "a fake…written by someone within the Chavez government", and promise voters that their "real platform" is an online version they published as part of February 12 primaries that secured Capriles the MUD candidacy.

According to the MUD Secretary, the aforementioned memo "is clearly a fake" because it "doesn't include the key points outlined in the real (opposition) program".

"In Venezuela there will be no macroeconomic adjustments", Aveledo promised, "because such adjustments aren't necessary – it's just not true that they're necessary".

Speaking in the state of Monagas, Capriles recently assured voters that "no major economic packages will be implemented" if elected in next month's election. He also promised, as he has done throughout the course of this year's presidential campaign, an "increase in the number of social programs, of even better quality" if voters chose him over socialist President Hugo Chavez.

Not mentioning Ojeda or de Lima by name, Capriles told supporters the Chavez government "created that document" and added that "cheese is now being offered to the rats, rats that are running to take a bite, if you know what I mean..."

(Includes editing, photos and related comments by Axis of Logic)

Primary Source: Correo del Orinoco