Today is Day #1 for the distributors and wholesalers of food, cleaning and personal hygiene products when these companies will be interviewed and obliged to sign an ultimatum to comply with their social and constitutional duties to deliver products regularly, and on time. We will update on this process in the coming days.
A worker from the pharmacy chain Farmatodo spoke out on the state TV channel VTV confirming that this company has always formed part of the economic war since President Maduro was elected in April 2013. He stated that products were retained and hidden from the public to cause irritation and ensure that long lines formed. These products include diapers, corn flour, wheat flour, detergent, bath soap, deodorant and shampoo.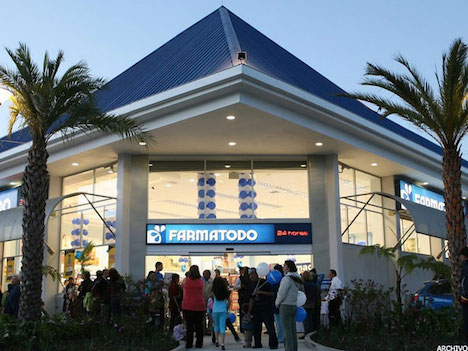 Lines outside a Farmatodo store in Caracas
Minister of Defense, General-in-Chief Vladmir Padrino Lopez, confirmed on his Twitter account that the Armed Forces had discovered 11 tons of coffee beans in sacks ready to be smuggled to Colombia. These sacks were confiscated and arrests made. Coffee has been difficult to find for several months and such contraband just aggravates the situation.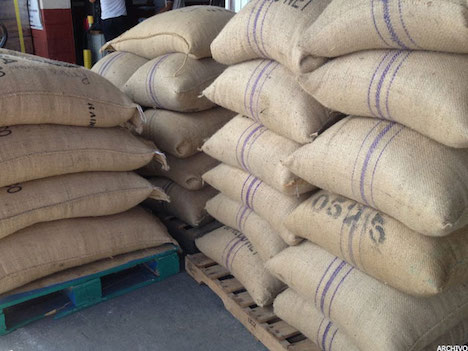 Contraband coffee beans destined for Colombia
National Airlines being looked at
Due to hundreds of complaints from passengers since the beginning of this month, the authorities are taking a close look at the service national airlines offer - this has always left something to be desired at the best of times.
Complaints include overpricing, planes overbooked, rude treatment by airline staff, late arrivals and departures and flights cancelled for no good reason, leaving families stranded.
The government will try to resolve this impasse by setting up working groups so as to improve service and value for money and so give a better deal to the long-suffering passengers.
Bicentenario managers jailed
The managers of a Bicentenario Supermarket in Ciudad Bolivar, Jorge Pérez Zapata and Magaly Campos Abad, were remanded in custody to await trial for reselling basic products at speculative prices from the store they managed.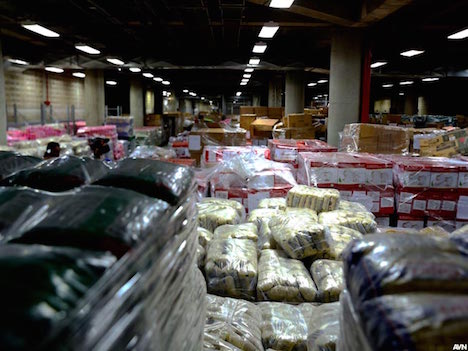 Warehouse full of hoarded products in Ciudad Bolivar
They were also accused of hoarding and corrupting others to participate in their criminal scheme. Another 23 employees seduced by easy money are awaiting arraignment from the same supermarket. Pérez Zapata and Campos Abad are facing 10–12 years behind bars for hoarding a huge number of basic products for which they were responsible.
Damning Evidence of Destabilization Conspiracy
During his annual report to the nation before the National Assembly, President Maduro presented damning evidence of the conspiracy to cause chaos in Venezuela with the aim of overthrowing the government.
He presented two telephone conversations that had been recorded by the Security Services, uncovering the intellectual authors of the hoarding and chaos prevalent in Venezuela since January 8.
The people involved are both ex–military personnel, presumably in the pay of the US Think Tank behind the current problems in Venezuela. They are Iván Carratu Molina and José de Jesús Gómez Bustamante – a former Colonel in the Venezuelan army and a graduate of the School of the Americas, of which he appears to be very proud.
In the conversation Gómez Bustamante confirms that ex-Chavista and head of Venezuelan Civil Defense, General Rivero, is working hand-in-glove with the jailed leader of the fascist political party Voluntad Popular, Leopoldo López, who is currently awaiting trial in the military prison of Ramo Verde.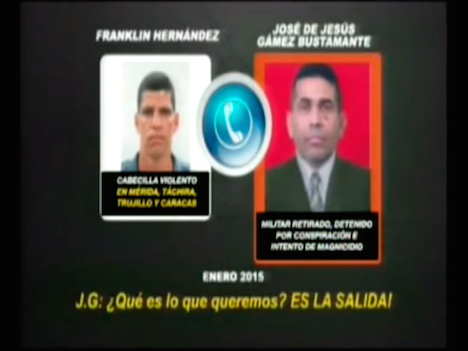 From a video clip of the conspirators
The recorded conversation took place on December 17, 2014 and the main objective was to generate public looting, by hiding products from them and boosting prices. In other words, a replica of the Caracazo looting and popular rebellion of February 27–28, 1989 when security forces murdered 3,000 people in cold blood to protect private property under orders from then president Carlos Andrés Pérez.
The second audio is between Gómez Bustamante and one Franklin Hernández, calling from the Andean city of Mérida. These two conspirators discuss causing chaos by sending in agents-provocateurs in the lines waiting to buy food causing the stores to close and then provoking the public to riot and loot the products. This conversation took place in early January.
Based on this information, President Maduro ordered the National Guard to patrol all supermarkets with lines outside to avoid these heinous plans being put into action. There were very few problems and hardly any looting with the exception of a Farmatodo store in Falcón state where the workers were hiding diapers from desperate mothers.
The three conspirators in the video/audio are all now behind bars as investigations continue into who is really behind the planning and financing of this pre-coup plan that has been put into action so far this year.
The soundtrack with subtitles was shown on live TV on all national channels and heard on all radio stations as Maduro spoke in front of the opposition deputies and 80 ambassadors present for his annual report.
There is no doubt that Venezuela is under attack both economically and politically, and the strength of resistance will be made evident in the march called by the governing United Socialist Party (PSUV) for January 23 – an iconic date in contemporary Venezuela history when the last dictator, Pérez Jimenez, was ousted by a combined popular and military uprising in 1958 leading to the modern – albeit corrupt for 40 years– democratic era.
© Copyright 2015 by AxisofLogic.com

This material is available for republication as long as reprints include verbatim copy of the article in its entirety, respecting its integrity. Reprints must cite the author and Axis of Logic as the original source including a "live link" to the article. Thank you!